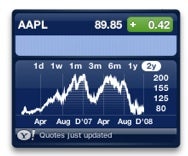 Don your party hats and break out the noisemakers, for the recent proposed subscription accounting change has been given a gold star by the Financial Accounting Standards Board, who voted to approve the new rule by a unanimous vote of five to zero. (Followed by cake and refreshments, we hear.)
Now the nuts and bolts: if you recall, the change particularly affects Apple's key Apple TV product. Oh, and also a small, unimportant niche device called the iPhone—probably something you've never heard of. Previously, accounting regulations required Apple to recognize revenue from the iPhone and Apple TV over the length of their two-year product lifetimes, since the company had promised to roll out new features via software updates. The new rules allow Apple to adjust the percentage realized at sale to a more accurate level. The change could also mean an end to charges for iPod touch software updates, though Apple hasn't spoken specifically on that yet.
While this doesn't alter the bottom line of how much money Apple rakes in, it does make a difference by giving the company even higher numbers to boast about in its quarterly financial conference calls and at CFO Peter Oppenheimer's weekly financial reporting brown bag lunch which, he has allegedly complained, are woefully underattended. Come on, guys—he bought pizza and soda and everything!
Some have speculated that this will raise Apple's stock price, which seems pretty likely—at least one analyst has already raised his targets for Apple's earning per share over the next couple years. The new rules aren't required until December 2010, but Apple could adopt them as early as the beginning of its new fiscal year which is, coincidentally, next week.
Apple's Q4 2009 results, which should be reported towards the end of October, will not account—see what I did there?—for the new rules, but expect plenty of questions from the groupies financial analysts in on the conference call.