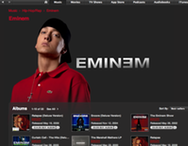 If it came to a choice between Eminem and M&M's, it's no contest for me: the chocolate treats in the candy-coated shell win every time. I mean, they melt in your mouth but not in your hand—this is science at its finest, people. Also, so far nobody's tried to sue Apple on M&M's behalf.
A suit filed over two years ago by music publishing companies Eight Mile Style LLC and Martin Affiliated LLC against Apple is finally going to trial on Thursday after the parties failed to reach a settlement. The bone of contention? That Apple distributed digital downloads of 93 of rapper Eminem's songs without appropriate compensation.
Apple says that the songs' sound recording rights are owned by Aftermath Records, with which it has a legal deal, and also argues that it has paid royalties as required. Aftermath is also a defendant, as the plaintiffs allege that it had no right to negotiate for digital downloads.
Eight Mile Style and Martin Affiliated are requesting a restraining order that will prevent Apple from distributing the songs without the plaintiffs' consent, a ruling of copyright infringement, and the awarding of damages as well as Apple's profits—including a $16 million slice of Apple's iPod sales—that are the result of the infringement.
The case will be heard in the U.S. District Court, Eastern District of Michigan (Detroit), by Judge Anna Diggs Taylor. The trial is expected to last about a week, and no, the real Slim Shady is not expected to make an appearance. No word on the little chocolate candies, however.