In my day-to-day Mac work, I frequently find myself positioning windows next to each other on the screen. For example, I often drag files between two or three Finder windows, and I frequently position two word-processing document windows—or BBEdit's document window and Web preview window—side-by-side so I can compare their contents.
TwoUp and SizeUp are sibling utilities that aim to make such window arranging easier. The free TwoUp is designed to let you arrange two windows, each taking up half the screen, either next to each other or above and below each other. To use TwoUp, you select the first window and then use TwoUp's systemwide menu or keyboard shortcuts to send that window to the top, bottom, left, or right half your screen. Then you choose the second window—which doesn't have to in the same program—and send it to the opposite half of the screen. The two windows are perfectly aligned to fill the screen.
TwoUp works well for this basic task, although the program doesn't support multiple displays. For that feature, and many others, you need to move up to SizeUp, which offers much more functionality.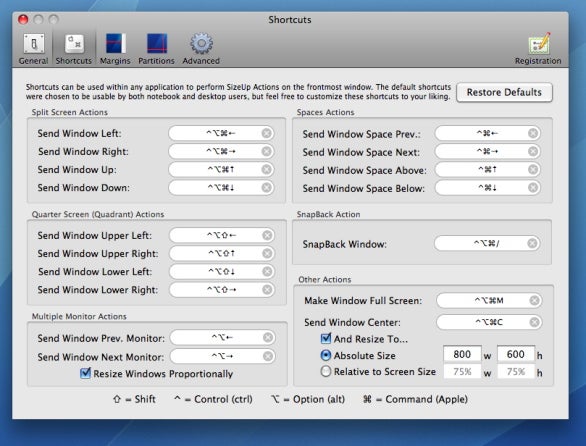 SizeUp adds keyboard shortcuts and menu commands for quarter-screen windows, moving windows between multiple displays, and moving windows between workspaces in OS X's Spaces feature. You can also easily make a window fill the screen, or center the window with particular dimensions.
If you don't want windows to be pushed right up against each other or against the edges of your displays, SizeUp also lets you set custom margins—areas the windows won't cover—both on the edges of the screen and in between windows. Finally, you can choose special options for handling window drawers as well as windows that might resize behind the Dock or offscreen.
One limitation of both TwoUp and SizeUp is that they don't work properly with programs that don't use standard Mac OS X window types—for example, Microsoft Office 2004 applications—as well as windows that don't allow resizing or that have locked aspect ratios. But I've found that most programs I use work fine with TwoUp and SizeUp, and each can improve your productivity if you frequently work with multiple windows simultaneously.
Pricing note: Irradiated Software lists SizeUp's price as " Name Your Price," which means you're supposed to pay what you think the software is worth to you. However, the developer suggests $13, "based on the cost of time, effort, and resources that went into developing SizeUp," so that is the price we list here.