Amidst the bovine-like developer stampede to get bells-and-whistles-laden, marquee products out for the iPhone and iPod touch handsets and up on the ever-profitable App Store, sometimes simple apps work the best.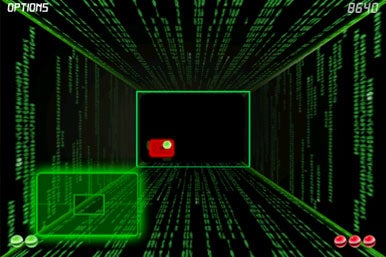 This is the case with MegaNudge Entertainment's Arcade SpinBall, a game that can really only be described as a first-person version of Pong. Set in a hallway with your paddle on one end and the computer's paddle at the other, you must return your opponent's serve, bouncing the ball off the walls to make the return that much harder and score against your opponent.
The game currently ships with 20 levels and three game modes (All Arenas mode, Single Arena mode and Survival mode) and allows you to choose between tilt and touch control modes, so it's easy to experiment and see what method works best for you.
In spite of its simple premise, Arcade SpinBall doesn't lack for polish. Detailed graphics combine with good sound, outstanding music and a realistic physics engine to make for an immersive experience. A good interface and instruction screen help the player along without being clunky or obtrusive; a well-designed options menu makes it easy to control the sound and music on the fly.
A few extra flashes have found their way into the game, and I'm not just talking about the usual iPhone game suspects like a reliable autosave system, a global scoreboard and good use of the handset's tilt function. Meganudge has added a fully functional 3-D mode. Simply order a pair of 3-D glasses (available for $1.00 via a self-addressed, stamped envelope) open the game, enter 3-D mode and the effect is complete.
Arcade SpinBall isn't the most intricate game in the world, but it remains inventive and a great way of slaying 15 free minutes at a time on your iPhone. Even if you lose at a level, there's an urge to go back to try a new play technique (such as adding backspin to your return shot). The autosave system allows you the option of picking up where you left off.
Though it may sacrifice the simplicity of the game, power-ups could make the Arcade SpinBall more interesting, even if only available as an unlockable game mode or an option that had to be activated by the player. The game is fun, but it'd be nice to see the gameplay altered every so often.
At its App Store page, Meganudge promises to add bonus levels, additional physics tricks and multiplayer gameplay over Wi-Fi for iPhone OS 3.0 users, and I can't wait to see this happen. It will certainly be interesting to see what the developer can deliver with a few more updates.
Arcade SpinBall may not be the biggest marquee title out there, but it's something you, your friends, and grandma can pick up, play for a bit and feel as if your $1 was very well spent.
[Chris Barylick is a Macworld contributor whose Pong skills are the stuff of legend.]