It's finally time to enter a world where undersea cities bloom, where gene splicing is a reality, where staggering technology and a promising utopia spiral into a hellish nightmare world. It's time to enter Rapture. Because in two weeks, Feral Interactive will bring Bioshock to the Mac.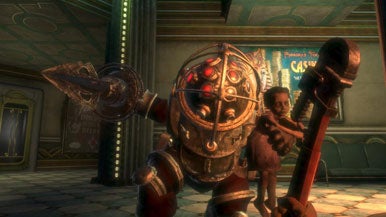 Bioshock is perhaps the most anticipated game to come to the Mac platform this year. When it was first leaked earlier in the year, buzz for the game was immediate but information has been scarce. That silence has been broken in a big way Thursday when Feral set October 7 as Bioshock's release date.
Not only do Mac gamers have a date to circle on the calendar, they also have system requirements for the game. Bioshock requires at least a 1.8GHz Intel-based Mac with 1.5GB of memory, a 128MB graphics card, a DVD drive, and 8GB of hard drive space. You'll need Mac OS X 10.5.8 or later to run the game. If you've got a Mac with the integrated Intel graphics, you're out of luck; however, Bioshock does run on the latest generation of MacBooks and Mac minis.
Bioshock puts the player into the shoes of a character who barely survives a plane crash. He swims to a mysterious lighthouse in the ocean and stumbles upon the underwater city of Rapture, a dystopia where genetically-modified citizens and incredibly advanced technology have plummeted the society into chaos, bloodshed, and anarchy. To survive, players must use everything at their disposal as a weapon and finally piece together the mystery of the failed city.
Originally published by 2K Games, Bioshock is much more than a typical first-person shooter. You'll encounter guns, of course, but you can also upgrade your very genes in order to give you super human powers… though not without a cost. Combining role-playing game elements like upgradeable weapons and powers, a rich plot with multiple endings, and an attention to detail that is simply staggering, it's easy to understand the anticipation building for Bioshock on the Mac—and if you still need convincing, check out the trailer on Feral's Web site. (Like the game itself, the preview of Bioshock is not for the faint of heart.)
BioShock sells for $50. You can pre-order it from Feral's online store.