It's great to see app developers step up their efforts to build visually appealing news applications for the iPhone and iPod touch. Unsatisfied with merely listing headlines alongside tiny thumbnail pictures, creative developers are using images and words to make more eye-catching browsing experiences for readers.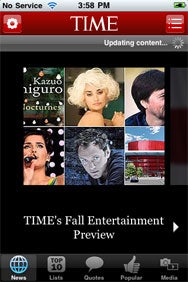 Time.com Mobile is a handsome news app developed by Polar Mobile for the Time Inc. newsmag giant. The free app gives you the choice of browsing the bland list of latest articles or perusing the headlines in "image flow" mode, with headlines of top stories accompanied by graphically pleasing pictures on a black background. It's a much more interesting way to read news.
The Time app features many of the print and Web features readers would expect, including quotes of the day, best and worst lists, feature stories, opinion and news analysis, a popular news tab, slideshows, and videos. You need a Wi-Fi, 3G, or EDGE connection to take advantage of these features, and the app does not support offline reading.
With Time, however, users experience a paradox. Yes, the interface is very good. The trouble is, news apps rarely do photos justice, and Time is no exception. The screen is adequate for handling text (although it's worth noting that you cannot easily adjust the type for better readability in the Time app). But it can't deliver the impact of a photo reproduced on a printed page. You can pinch-zoom, but most of the pictures are optimized for larger viewing.
So the photo essays that are a selling feature of this free app are actually not such a big deal. Until holographic projection becomes a standard feature of Apple handhelds, users will have to settle for small images. But Time.com Mobile makes a yeoman effort.
[Ben Boychuk is a columnist and freelance writer in Rialto, Calif. Feel free to e-mail him.]