Good design is within everyone's reach. Even though you may never have attended an art class, you can still create layouts that are compelling and easy to read. If you can memorize four easy principles, you've got what it takes to create an interesting and pleasing poster, brochure, party invite, business card, or any other composition. Last time we talked about proximity and the importance of using space to group related items together within a layout. In this second part of the Design Basics series, we'll look at another design rule: alignment.
Alignment—Line it up
Alignment gives readers a hard edge for their eyes to follow when scanning or reading a piece. This edge forms an invisible line that connects items on a page. Robin Williams (author of the Non-Designers Design Book, Peachpit Press) wisely notes that the stronger the alignment, the stronger, cleaner, and more dramatic your layout will be.
The basic alignments are left, center, and right; but which one do you use when? For large blocks of text, use left alignment because it's the easiest to read (think newspapers, books, and magazines). Right alignment is more difficult to read so use it on smaller chunks of text. Centered alignment conveys a feeling of formality and elegance, so reserve it for graduation announcements and wedding invitations.
Another alignment pitfall to avoid is wrapping text around an irregularly shaped object—very few designers can pull this off. Because the text edges become jagged and erratic, the piece becomes difficult to read, as shown below.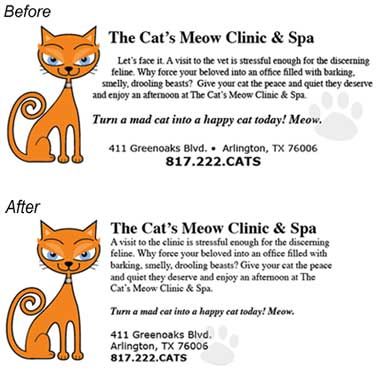 Here's how to find alignment tools in some popular programs:
Microsoft Word: In the Formatting toolbar (View –> Toolbars > Formatting), Formatting palette (View -> Formatting Palette), and in the Paragraph dialog box (choose Format -> Paragraph).
TextEdit: In the toolbar at the top of an open document.
Tex-Edit Plus: In the Tools palette (Tools -> Show Tools) and in the Format menu (choose -> Justification).
Apple Pages and Keynote: In the Text Inspector (choose View -> Show Inspector and click the big T).
However, if you're aligning text (or other objects) in a program that support layers—such as Photoshop, Illustrator or InDesign—there's a bit more you need to know.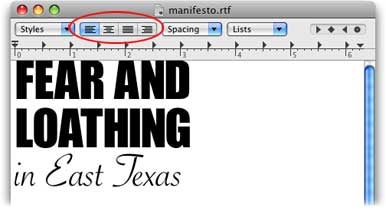 Aligning text on a single layer
To change the alignment on one Text layer in Photoshop ( ), Illustrator ( ), and InDesign ( ), press T to grab the Type tool and make sure you're on the layer you want to change. Double-click the layer thumbnail to select all the text, or click and drag to select a portion of text (you can have different alignments on a single text layer, provided the lines of text are separated by a return). Once the text is selected, click an alignment button in the Options bar (the same buttons live in the Paragraph panel).
Aligning text or objects on multiple layers
In Photoshop and InDesign, activate the Move tool and Shift- or Command-click to the right of each layer's thumbnail (near the name) to select the layers you want to change. In the Options bar, you'll see a slew of alignment tools that appear only when the Move tool is active and more than one layer is selected. Click the appropriate button and the selected layers will pop into place. In Illustrator, choose Window -> Align to summon the same set of tools.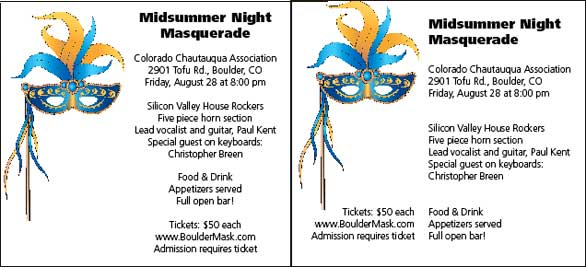 As you can see from the above examples, proper alignment makes a huge difference in your layout. See you here next time for design secret number three: Repetition.
Lesa Snider, founder of GraphicReporter.com, is the chief evangelist of iStockphoto.com, author of Photoshop CS4: The Missing Manual (Pogue Press/O'Reilly, 2009), and several video training titles from both KelbyTraining.com and Lynda.com.
When you purchase through links in our articles, we may earn a small commission. This doesn't affect our editorial independence.