Editor's Note: This story is excerpted from Computerworld. For more Mac coverage, visit Computerworld's Macintosh Knowledge Center.
High school and college students could be big beneficiaries of mobile technology by using e-readers and smartphones to access electronic textbooks and other course materials.
At Francis Tuttle Technology Center in Oklahoma City, pilot projects using iPhones and Kindle e-readers are in their early stages, as administrators weigh technical and financial considerations, said Chief Technology Officer Russ Hester.
"Computer mobility is key and critical to our future," Hester said in an interview. "We spend time here looking at ways to get people [access] to learning content, no matter where they are…."
For example, iPhones and iPod touches are being evaluated for use by nursing students to carry medical reference books electronically "instead of requiring them to lug 10-pound books about the clinics," he said. Currently, nursing students use HP Ipaq handhelds, but those older devices are being retired.
The Kindles could be used by a broad range of students, and might be available at the school bookstore pre-loaded with all the textbooks needed for a specific curriculum, Hester said.
He estimated that students might even save up to 50 percent on the cost of textbooks by buying them electronically. As an example, he said a complete set of textbooks for several courses in a single curriculum and a Kindle device, sold at perhaps half its retail price, might cost $1,600. That's compared to $2,000 for the traditional textbooks alone. Students might even be able to use financial aid to make the purchases, since many are returning adults, some who have been laid off.
One major issue will be getting textbook publishers to use the Kindle's proprietary publishing format, he said. Hester also said he wants the Kindle's browser to be improved so that students could use it to access the center's learning application from Blackboard Inc.
Access to the Blackboard application server could allow access to online videos and other materials, he said.
Allen Weiner, an analyst at Gartner, said the Tuttle Center's Kindle evaluation is one of several under way in the U.S. where IT shops are considering a "myriad" of concerns, including how to sell e-textbooks and not cut revenues for school bookstores accustomed to offering traditional paper texts. Amazon.com is already conducting Kindle DX pilots at seven major universities, including Princeton University, a spokeswoman said.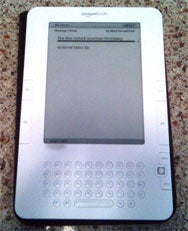 In addition to the iPhone and Kindle pilot programs, Hester said the center is may buy a group of sub-$500 mini-laptops that would be lent to students who agree to pay for the machine if they lose it.
Hester said he is so committed to mobile technology that, so far, he hasn't turned down any staff member pushing a pilot project. "I'm envisioning in three years everybody here having a mobile computing device, and we will support any flavor of device so they can get access to learning," Hester said. "Why do I have to buy desktops to install here? Let them learn with their technology."
The Tuttle Center serves 3,200 high school students and adults each year, offering career certifications and college credits in many fields, including nursing, IT and culinary arts. In addition, as many as 40,000 students enroll in short training sessions that last a few days each year, with up to 3,000 students enrolled in three-month e-learning programs from 49 states and 46 countries.
Most of the center's distance learners are probably using desktops or laptops to access information, but mobile devices are sure to grow more powerful and more plentiful, putting demands on the center's courses.
Distance learning has increased interest in some courses at the center, such as IT courses like one on Oracle Database. "It was struggling in terms of enrollment, but when it went to an e-learning format, it was suddenly wait-listed," he said.