The iPhone GPS app market unleashed by the release of the iPhone 3.0 software update is getting more interesting by the day, with several developers in an arms race to add new features to their initial offerings.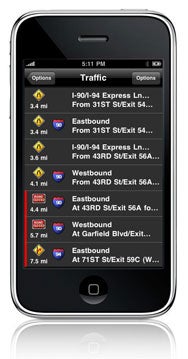 Taking the lead in the GPS app race is Navigon MobileNavigator, which recently added support for spoken street names—a major failing in the three apps that I previewed in a Macworld Video last month. My own in-car navigation box doesn't even speak street names (other than numbered freeways), and it sure makes a big difference.
Last week, I got to spend a little bit of time with Navigon's Johan-Till Broer, who showed me the next version of MobileNavigator, due as an update sometime in October. For an extra in-app purchase, it adds live traffic to the party, downloading traffic updates over the digital cell network and rerouting you around slow spots. The traffic update also does a better job of estimating the speeds of various roads without live traffic data. The end result should be that MobileNavigator will do a better job of suggesting the fastest route you should take to your destination, based on both current conditions and the time of day you're traveling.
Sygic, maker of the Sygic Mobile Maps GPS navigation app, recently updated its app to support spoken street names, as well as catching up with the other apps by integrating the addresses of the contacts in your iPhone's address book. I've found Sygic Mobile Maps to be a solid app, although it feels more like a port of a standalone GPS device than a native iPhone app. However, you can't beat the price—Sygic is trying to drive sales of its updated app by reducing the price (temporarily, at least) to $40 for an app containing only United States maps and $60 for the app containing maps of all of North America.
While Navigon and Sygic are not familiar names to most Americans, TomTom is a strong brand and its iPhone app has sparked a lot of interest, although the iTunes charts would suggest that it may have fallen behind Navigon in terms of sales. TomTom's promised car kit for the iPhone, which promises a mount, speaker, and improved GPS reception, has yet to arrive here in the States. (Our friends at Macworld UK are reporting that the car kit is available for order on that side of the Atlantic, with shipping times listed as "two to three weeks.") As for the TomTom app, the company promises "several updates by the end of 2009," but hasn't given details. Presumably spoken street names and live traffic are high on the agenda.
Reviewing these apps is hard, requiring a lot of driving (and a dedicated driver so the reviewer doesn't cause an accident!), and the features of the apps keep updating at a rapid pace. Look for a comprehensive comparison of iPhone GPS apps from Macworld in the near future. In the meantime, check out my video above if you'd like to see the apps in action. From my perspective, right now Navigon MobileNavigator is the best choice available, but this game is far from over.
[Updated 3:39 PM PT 9/25 to correct that Navigon traffic update will be an in-app purchase, not a free update.]