At a Glance
Expert's Rating
Pros
Many new templates using Template Exchange
IPhoto integration
Send email to multiple Bento contacts
Multi-user capabilities
128 bit AES encryption
View images in tables
More themes
Cons
"Locked" database not locked on the network
No label printing
Limited control over where fields can appear on forms
Not possible to edit any iPhoto metadata
Our Verdict
It's hard to believe that, at just under two years old, Bento is already in its third release, but it's a sure sign that Filemaker is committed to making this inexpensive, personal and SOHO database application your go-to tool for managing many of your digital assets.
Bento's name derives from the Japanese lunch box that's divided into separate compartments for the different portions of your meal. (Author's note: I'll take the sashimi box, if you're buying.) Like its namesake, Bento helps you keep your data in orderly compartments, but it also helps you mix, match, and update data from several sources. Version 3 of Bento adds new features to help you better organize your data, including integration with iPhoto, sharing data with others on your local network, and securing that data with 128-bit AES encryption. Bento 3 is a significant and worthwhile upgrade to all prior versions of the program.
Photo mojo
If you've used Bento you know that it's great at leveraging existing information, like Address Book contacts and iCal appointments and to-dos, as well as letting you manage, update, and otherwise manipulate that data in ways that are more useful than is possible in their native applications. Bento 3 now adds iPhoto to that list of linked applications.
Like iCal tasks and events and Address Book contacts, all your iPhoto images now appear in the library pane at the left of Bento's main window. Bento handles your iPhoto libraries differently than it does the links to Address Book and iCal data, as it's possible for you to edit or delete contact, event, and to-do information using Bento, but you can't edit or delete any of your iPhoto photos or videos in Bento. I found this to be a good thing, as I wasn't able to delete an original photo by deleting a record in Bento, but there were instances when I wanted to change some iPhoto info, like a photo's star rating, but couldn't because the Bento field was locked and Bento does not open the image in iPhoto when you double or control-click it.
So, if you can't use Bento to change iPhoto data and if you can't even use it to open iPhoto to edit an image, what is Bento useful for? Cataloging, organizing and linking your photos to other information. Bento's iPhoto connection shines when you link it to another Bento library. For example, if you're a photographer who uses Bento to track customers and the photographs they purchase, all you need to do is drag your iPhoto library to the Bento form you use to track contacts and Bento links the two libraries together. Using that link you can easily match your customers with the photos they've purchased, and include the dates photos were purchased and the price paid, giving your better insight into which of your customers have purchased what.
New views
One of Bento's many changes is a new grid view that gives you an overview of all the records in any of your libraries. Grid view works in a similar fashion to iPhoto's Event View. Move your mouse over a record and if it has more than one form associated with it you'll see that record in all the forms. If you select one of your iPhoto libraries, grid view lets you see all your photos and any information that's stored in up to four fields that you select.
Bento's table view has been updated as well and now includes very small thumbnail images in every photo field. Each of these thumbnails has a small eyeball icon next to it. Clicking that icon or pressing Command-Y opens up Quick Look and gives you a better view of the image associated with that record. If you select multiple records and open Quick Look, you can quickly scan all the images by using the left and right arrows on your keyboard.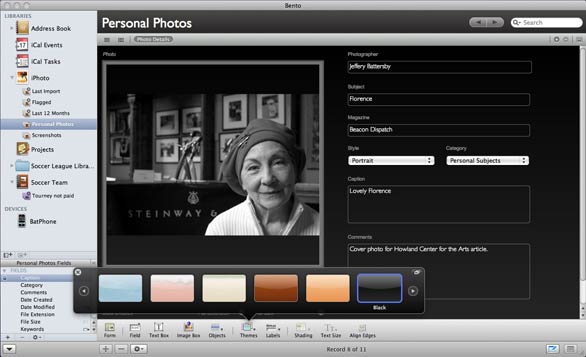 Share and share some more
If you used the last version of Bento you may know that Bento lets you access, update, and sync your data using the Bento iPhone application. Bento also offers you the option to share your entire database or a few select libraries with up to five users on your local network. You can choose to allow anyone opening your file to edit and update all your data, excluding iCal events and to-dos, and you can also limit access to an entire database or specific fields—such as a customer's credit card information—using Bento's new password and encryption options. Encrypted fields display bullets instead of text and, when the fields are locked, cannot have data entered into or copied from them. Bento also gives you the option to lock your database when you step away from your computer and require a password every time you open the database.
Bento's field level security options work well, but I was able to leave my database unlocked and available to everyone on my network even though I thought it was properly secured. This is because, with the exception of secured fields, Bento's database password only secures the database on the host computer. To secure your database over a a network you need to make sure you set a password in Bento's Sharing Preference (Bento > Preferences > Sharing). I assumed that if I locked my database on the host computer, anyone attempting to connect to that database on my network would be required to enter a password to unlock it. I was wrong and my "locked" database was actually open and available for anyone with Bento to connect to it.
And much, much more
There are also several small but useful new changes to Bento. First, there's Bento's new Template Exchange, an online collection of nearly 250 Bento templates submitted by Bento users, that you can download for free or upload for others to use. There's a better theme browser with ten new themes, folders for grouping and organizing libraries, custom icons you can use for your libraries, and the option to use Bento to send email to more than one recipient at a time. But Bento also makes surprising omissions, especially for the third iteration of a database product that's meant for home and small business use: There is no way to print labels and you don't have pixel level control over the fields that you use on your forms, which limits your customization options.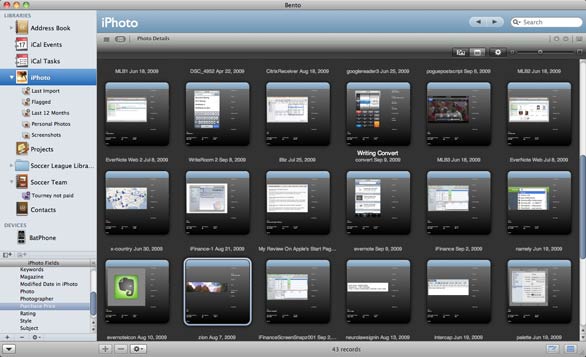 At what price Bento?
After the release of Bento 2 ( ) there was loud and vociferous commentary of the "boo-hiss" variety on the Macworld message boards about the fact that there was no upgrade pricing for Bento 2.
Bento 3 ships in two flavors, a $49 single-user version and a $99 5-user family pack. According to a FileMaker press release, if you already have Bento 1 or Bento 2, FileMaker has a $20 rebate off the price "for a limited time only." If you buy Bento 3 through FileMaker online, you need to provide your license key at the point of purchase in order to get the rebate. If you buy Bento 3 from any other reseller, you'll have to pay full price at that store, and then fill out and submit a rebate form. If you bought Bento 2 between August 30, 2009 and October 14, 2009 you can get Bento 3 for free.
Bento 3 is a bargain, whether you're upgrading or you're a first time user, and the price per user for a family pack is dirt cheap. Kudos to FileMaker for rewarding existing customers for their faithful use of a program.
Macworld's buying advice
Bento remains the premiere database application for the SOHO and home user. The addition of iPhoto integration, database security, database sharing with up to five users, and and a multitude of new templates and themes make Bento a far more versatile database with more options for the small office and small business owner. But it also omits some very obvious and basic tools, like label printing and the option to put fields exactly where you want them on a form, that may leave many potential users out in the cold.
[ Jeffery Battersby is a writer, IT manager, and (smalltime) actor living in upstate NY.]
[Editor's note: Updated 7:20AM PST on 9/29/09 to correct for pricing rebate. Updated 10:10AM PST to include rebate information. The final mouse rating was not affected by the correction.]