At a Glance
Expert's Rating
Cons
Limited connection options
Slow
Our Verdict
The External Slimline USB 2.0 BD-R 4X Optical Drive from FastMac is an external disc burner capable of writing to high-capacity Blu-ray media as well as to most types of DVD and CD discs. It is far from the fastest Blu-ray burner we've tested, but it was one of the few that completed each task without creating unusable coasters out of expensive blank discs.
This compact drive, which sports an attractive matte black case, attaches to your Mac via USB 2.0 and required no external power when connected to our Mac Pro for testing.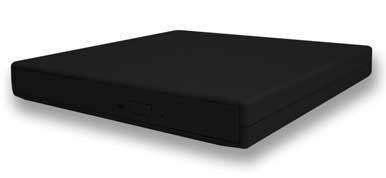 The drive can burn 25GB single-layer Blu-ray (BD-R) discs at speeds up to 4x as well as 50GB BD-R DL discs at speeds up to 2X. Most of the drives we've looked at can burn both types of Blu-ray media at 8X speeds. Burning data to Blu-ray discs is supported by OS X's Finder, or through a third-party application like Roxio Toast. You can burn high-definition Blu-ray discs to watch on your home theatre component Blu-ray player with the latest version of Apple's Compressor ( ), part of the Final Cut Studio, or with Toast Titanium via Roxio's $20 High Def/Blu-ray authoring plug-in. And while there is software available that allows you to watch Blu-ray movies on your Windows PC (or on your Intel Mac if you're running Apple's Boot Camp or other PC emulation software), these HD discs are not currently viewable on your Mac. Aside from Blu-ray media, the BD-R 4X can burn all flavors of DVD, +/-, RW, DL, as well as CDs and CD-R discs.
In our timed tests, we found the FastMac to be slow at most burning tasks, taking nearly twice as long to burn and verify a DVD-R in the Finder than our fastest overall performer, the Buffalo MediaStation ( ) with its USB 2.0 connection. It took the FastMac nearly 30 minutes to burn a DVD+R DL disk using Toast 10 Titanium, a task that the Buffalo drive completed in 17 minutes. On the positive side, two other drives we tested could not complete that test at all using USB and Toast. The FastMac's timed results were more competitive when copying data from burned discs back to the internal hard drive.
Using Apple's Compressor application to prepare and burn a high-definition movie file to a Blu-ray Disc took 16 minutes on the FastMac, as opposed to a little less than 14 minutes on the Buffalo drive. Copying 8GB of data from a Blu-ray Disc to the internal hard drive of our test system, took about a minute longer on the FastMac than the Buffalo: 8 minutes and 48 seconds, compared with 7 minutes and 55 seconds, using comparable USB connections.
Macworld's buying advice
Though it won't set any speed records, the FastMac External Slimline USB 2.0 BD-R 4X Optical Drive is a dependable performer, completing each test we ran. Bus-powered and compact, this portable burner should appeal to mobile users looking to burn the occasional high-capacity Blu-ray Disc as well as those wanting a second optical drive for duplicating CDs and DVDs.
Timed Trials
| Interface | Burn and Verify DVD-R at Max Speed in Finder | Copy Data from DVD-R to Desktop | Burn DVD+R DL at Max Speed Toast | Burn BD-R at Max Speed Compressor | Copy 8GB from BD-R |
| --- | --- | --- | --- | --- | --- |
| USB 2.0 | 20:44 | 9:49 | 29:49 | 16:02 | 8:48 |
Scale = minutes:seconds
Specifications
| | |
| --- | --- |
| Mechanism | LG BD-RE GBW-T10N |
| Connections | USB 2.0 |
| Write Speeds | BD-R: 4X max; BD-R (DL): 2X max; BD-RE: 2X; BD-RE (DL): 2X; DVD-R: 8X max; DVD-R (DL): 4X max; DVD-RW: 6X max; DVD+R: 8X max; DVD+R (DL): 4X max; DVD+RW: 8X max; CD-R: 24X max; CD-RW: 16X max |
| Included Software | None |
[James Galbraith is Macworld's lab director.]