At a Glance
Expert's Rating
Pros
Terrific character formatting options
Excellent character and paragraph styles
Clean and intuitive user interface particularly suited to simple writing
Cons
No footnotes or endnotes
Very basic support for graphics and tables
Very limited page-layout options
Our Verdict
Pagehand 1.0.6 has the most elegant user interface of any word processor I've ever used. By "elegant," I mean that the exceptional beauty of the program is closely related to the program's ease of use. But Pagehand's elegance is aristocratic. It's not meant for menial work like, oh, index creation or outlining. Pagehand is like a Mont Blanc "writing instrument," designed for individuals whose writing needs are simple enough that they have time to enjoy the experience of writing.
Feature lists are overrated
Pagehand lacks features that are found in other programs, features that many users may consider important, if not essential. Pagehand can't track changes in a document as you edit it. It can't compete with Apple's Pages ( ) for page layout features; for example, you can paste a picture into a document in Pagehand but you can't do much with it. Pagehand lacks the powerful search tools of Nisus Writer Pro ($79), and it can't compete with Mellel ( ) in automatic numbering and footnotes; indeed, Pagehand 1.0 can't do footnotes at all. At first glance, Pagehand's feature set seems a bit weak even by comparison to that of Documents, Google's online word processor.
But feature-lists are overrated. What you should care about is whether the program has the features you need, not how many features it has that you don't need. And while Nisus Writer Pro and Mellel are, in some ways, "lite" versions of Microsoft Word ( ) (in the best sense), Pagehand seems something different—not a conventional word processor at all, exactly, but rather a program for writing and presentation of text. Maybe they should have called it "Writehand."
Of course, Pagehand does have many standard word-processing features. It provides basic support for tables and pretty good support for multiple columns. You can divide your documents into sections with different headers or footers. Pagehand does paragraph styles very well: styles are easy to define, easy to edit, and easy to use, especially since you can apply custom keyboard shortcuts to your most-used styles. And paragraph styles include normal as well as nested paragraph numbering.
But Pagehand really excels in the way it handles lines, words and even individual letters. If you worry about kerning, or if you prefer to use ligatures (for example, æ instead of ae), Pagehand is hard to beat. Pagehand's "prevent stragglers" (widows and orphans) feature works well. With Pagehand, you have subtle control over the hyphenation of your document, and if you wish you can even fine-tune hyphenation in selected paragraphs. Do you want to control the weight or width of characters? Easy as pie. Multiple underlining styles? Take your pick. Shadow text? Pagehand lets you specify angle, offset, blur and opacity. If you want to use 10.70 point text, well, Pagehand can handle that, too.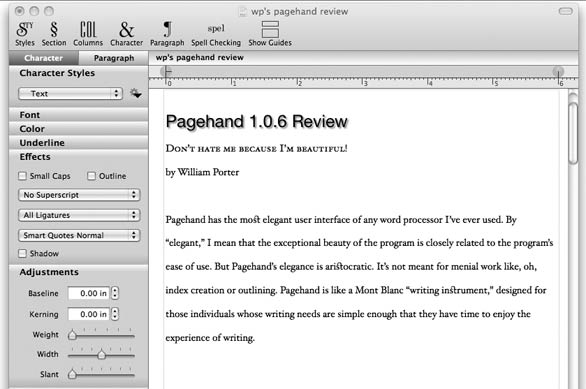 More than a pretty face
Pagehand is a useful writing tool, if you want to give your ordinary business correspondence some flair, if you are typing up your poems for self-publication. The elegant user interface is easy when you need it; most of Pagehand's controls are right at hand in the sidebar or toolbar, rather than being buried in dialogs, and buttons are all accompanied by text labels so you don't have to guess what command a tiny icon represents. Controls in the toolbar appear or disappear as you need them, depending on context. And if you want, with a couple keystrokes you can hide the sidebar, ruler and toolbar and be alone with your thoughts and your words.
File format compatibility
Here's something novel: Pagehand's native file format is .pdf. Pagehand isn't a PDF editor, though, and Pagehand PDFs are editable only in Pagehand, but your friends and colleagues can open them without a hitch in Preview. So far, so good. Unfortunately, this choice makes it a little more difficult for your computer to know what program to open when you double-click a Pagehand document. Pagehand provides a utility option that tells Snow Leopard to open Pagehand PDFs in Pagehand and ordinary PDFs in Preview.
Pagehand can import from and export to the most popular word processing file formats, including .doc and .docx, .rtf, .html and .odt (used by OpenOffice.org). Of course, importing a .doc (Microsoft Word) file that contains formatting not supported by Pagehand will lead to unpredictable and probably unsatisfactory results.
Macworld's buying advice
At a later date, if Pagehand improves its support for tables and adds the ability to create footnotes and endnotes, it may be a real contender. In the meantime, if your writing needs are relatively simple but not simple enough for TextEdit—in particular, if you do not need to create footnotes and don't need to share your document with other writers—you should give Pagehand a look. It's a pleasure to use.
[William Porter is a database applications developer and photographer who lives in Dallas, Texas.]