My wife and I have a simple goal in our travels each year: try and visit at least one national park. Last year, it was Kings Canyon National Park. This year, we knocked Redwood National Park off the list. You get the idea.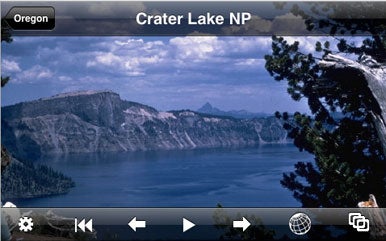 Wherever our national park-mania takes us next year—and oh, I am holding out hope for Volcanoes National Park—a new set of iPhone apps from Open Door Networks and Project A figures to help us in our travels. The developers have expanded their Envi line of iPhone and iPod touch apps to include new offerings that put some of the 400 national parks front and center. The first release— Parks Envi NW—has already hit the store, with more to come in the next week.
The timing of the release is not coincidental. On Sunday, The National Parks: America's Best Idea premieres on PBS. The six-episode special is the latest effort of documentarian Ken Burns. Open Door Networks and Project A plan to add a new Envi app each day the documentary airs, with the releases priced at $1.
The Envi apps are based on the iEnvision Web-image browser; they organize Web images into full-screen automated slideshows with scrolling thumbnail views and—appropriately enough in this case—the Ken Burns motion effect.
Parks Envi NW focuses on national parks in the northwest United States, including Yellowstone, Crater Lake, Mt. Rainier, and the Grand Tetons. You'll see Web-based park images displayed with full range of Envi effects. The app also includes access on park information, maps, and live webcams.
Parks Envi NW runs on any iPhone or iPod touch with the iPhone 3.0 software installed.