Are you evil? Probably not. Maybe you're a little naughty from time to time. It's likely you've done some bad things. Perhaps you can display a touch of viciousness at the water cooler or on the golf course. But it's not as if you've killed a guy, taken candy from babies, or produced American Idol.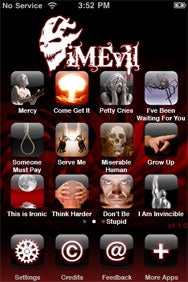 Nevertheless, you may want to indulge your darker impulses now and again, and say some things you're really thinking. For that, TechPad Productions' iMEvil app for the iPhone and iPod touch is your unholy solution.
IMEvil is an entertainment application that boasts 36 of the most chillingly fiendish sound clips you're likely to hear this side of the Hot Place. Simply tap one of the icons and the wicked sound plays. And that's it.
What saves iMEvil from being just another dopey novelty app—mind you, it's a still a novelty app, just not a dopey one—are the exquisite production values and exceptional voice talent. And for that, you will kiss the ground David Sobolov walks on, or he will destroy you where you stand.
You may not know the name but you might know the voice. Gamers have heard Sobolov's work in Call of Duty: Modern Warfare, Halo Wars, Marvel Ultimate Alliance and Justice League Heroes, among others. Sobolov's voice is so deep, so resonant and so diabolical, he makes John Di Maggio sound like Tom Kenny.
Listening to Sobolov utter such bone-chillers as "Quiet!" "Don't do something stupid," "Someone must pay for your failure," and "Think harder," it's easy to imagine iMEvil's applications in management and education. But it's probably most appropriate at bars and parties, particularly around October 31. Sobolov is so good, though, you'll want to hear him say mundane things like, "Yes, I would like fries with that," or "Excuse me, do you have the time?" Maybe in a future update.
[Ben Boychuk is a columnist and freelance writer in Rialto, Calif. Feel free to e-mail him.]