Editor's Note: This story is excerpted from Computerworld. For more Mac coverage, visit Computerworld's Macintosh Knowledge Center.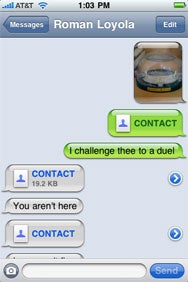 Nearly three days after activating its multimedia messaging service (MMS) to iPhone 3G and 3GS, AT&T said today it was "pleased with the rollout" despite continuing user complaints on its own Facebook page.
Many iPhone users complained late into the weekend and early today about the service not working or taking too long to send a photo. The service was activated mid-day Friday nationwide, after AT&T took heat from customers in June about not having it available when the iPhone 3GS launched. The complaints began rolling in later Friday.
"We are pleased with the rollout of MMS" to iPhone, said spokesman Mark Siegel in an e-mail sent about 9 a.m, reiterating comments he made when the service launched Friday.
Siegel also gave no date when tethering would be activated for the iPhone, saying only that it was still coming. Lack of the feature, which allows iPhone owners to use the devices to connect a laptop to the Internet wirelessly, was also a frequent concern of users who were commenting on MMS performance over the weekend.
Hundreds of customers lodged comments on AT&T's Facebook page over the weekend as well as dozens on Computerworld. Some noted when and where in the U.S. an MMS activation was dead or said it would take 15 to 20 minutes to send a photo. Sometimes a photo would be sent, with the transmission stopped suddenly three-fourths of the way through.
"MMS still not working here," wrote Remba Webster about 3 a.m. Monday on AT&T's Facebook page. "Red exclamation on every text message. Customer service can't seem to figure out what's wrong. Soooo frustrating."
A Facebook contributor named Taimur Asad forwarded a note on how users could enable MMS as well as tethering to iPhone 3.0.1 software, using a crack from StealthBravo.
Todd Kenny remarked that MMS was not working in south Wisconsin about 7 a.m. ET today, but then added, "I still think the iPhone is the best damn smartphone!!"
Kaleb Barr, at about 1 a.m. ET today said he was only able to send and receive MMS to other AT&T customers, and it would not work over Wi-Fi. He called it "super slow" on the EDGE net. But, as was often the case with commenters correcting one another, Arthur Gomez said he could send MMS on Wi-Fi and to non-AT&T customers.
AT&T had said in the summer it was working to ready its network for MMS, and missed an earlier deadline of the end of summer by three days to do so. Still some customers questioned why the activation took so long and still wasn't working well for them over the weekend. Others said many phones already have tethering and MMS, and what was wrong with the iPhone on AT&T?
Angela Heckard asked for a credit for the days MMS was supposed to be working, although AT&T has been charging for MMS as part of its regular text messaging fees.
"I pay good money for what my all-powerful iPhone is supposed to be able to do and the company isn't coming through for its customers," she wrote Sunday night. "If I pay for it, I should have it."