LaCie has introduced the Rikiki compact 2.5-inch hard drive, made of brushed, sturdy aluminium. The Rikiki (which means tiny in French), is available in three capacities (250GB, 500GB and 640GB) and comes with an additional 10GB online storage with a 2.0 USB interface.
"We are part of a generation that wants more from our electronics, but in the smallest form factor possible, and with a competitive price," said LaCie Consumer Product Manager Anne-Sophie Marchand in a press release. "With the LaCie Rikiki, we have done just that by fitting high-performance and high-capacity in the palm of your hand, for under $100."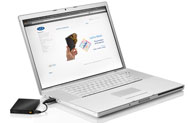 The 250GB Rikiki is $80. The 500GB Rikiki is $110. The 640GB drive is $150.
The drive includes LaCie's USB Boost software to increase data transfer speeds in Windows. USB Boost is not Mac compatible.