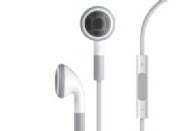 MP3 players and music-enabled mobile phones may face a crackdown under new health and safety EU laws with volume levels capped.
Under European Commission plans to be published this week, Apple and other leading manufacturers might further have to limit default volume settings and continually alert customers to the dangers of playing music loud, especially young listeners.
A safe level listening level is below 80-85 decibels according to campaigners, but some players play music up to 120 decibels. Reports suggest Brussels wants the maximum decibel level to be reduced from 100 to 80 decibels, with future music players built to the new standards.
"Current safety settings are not good enough to protect people," a source in the European Commission's consumer affairs directorate told The Times newspaper.
"There will be default volume settings so people can protect themselves and there will be new information requirements either on the screen or on the devices themselves."
"The aim is to make people aware that beyond certain noise levels you risk long-term damage to hearing, but users will be given a choice and have the option to override it if they want to."
In 2008, research from an EU scientific committee on Emerging and Newly Identified Health Risks suggested that up to 10 million people in the EU could be left with impaired hearing in 20 years' time.
European officials will also pay a visit to the Royal National Institute for Deaf People (RNID) this week. The charity has reportedly been working with the EU on helping to draft new rules. The RNID has said 54 percent of people listening to MP3 players exceed the recommended limit.
Researchers have found iPod users are more likely to turn volumes up in noisy environments.