As you might guess from its name, Pocket Piano, by Better Day Wireless, is an app that turns an iPhone or iPod touch into a mini piano. The app comes in two flavors: the $1 version provides just a standard piano sound while the $3 version, Pocket Piano Plus, gives you eight additional sounds: electric guitar, sitar, violin, flute, acoustic guitar, harmonica, dog and bagpipes. Other than the additional sounds in the Plus version, both apps function the same.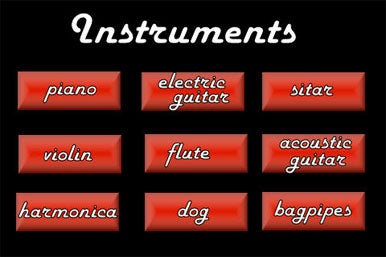 The app lets you play up to five notes simultaneously on three different styles of keyboards: a one-octave keyboard (large keys), a two-octave keyboard (small keys), and a dual-row one-octave keyboard. I have normal sized hands and still found it difficult to play more than three notes at a time on the large-key keyboard. The keys on the two-octave keyboard are half the width of the large keys, making it doubly hard for me to play anything except Jingle Bells Schroeder-style.
The dual-row keyboard provides access to two octaves with large-width keys, but they're only half as long, which poses a challenge of a different sort. When you're using the large-key keyboard, the app lets you access multiple octaves by scrolling it left/right, but this didn't work so well for me. You have to first tap a button to enable scrolling, but that turns off the keyboard so that you can swipe it to the next octave. This makes it impossible to scroll the keyboard without stopping your song. There are arrow keys on either side that support keyboard scrolling in real time, but I found them difficult to control while playing.
As for its other features, Pocket Piano offers a metronome that's functional, but its method of changing the beats per minute is very awkward. Rather than using the standard iPhone spin/dial interface (like the Calendar app uses for setting an appointment time, for example), you have to tap the individual digits to change each one separately. For some strange reason, the app only lets you move the numbers forward, not backward. So, if you want to go from, say, 80 beats per minute to 70, you have to tap the "8" nine times in order to advance it past "0" then back around to "7."
The app also provides a simple way to record your work. Tap on the Record button and begin playing, then tap again to stop recording. You can then tap on the Play button to listen or play along to what you've recorded, but there doesn't appear to be a way to save your recordings. In addition, there's a "finger slide" setting that, when enabled, is supposed to let you slide your finger across the keys and sound each one. Inexplicably, this seems to work only on the white keys.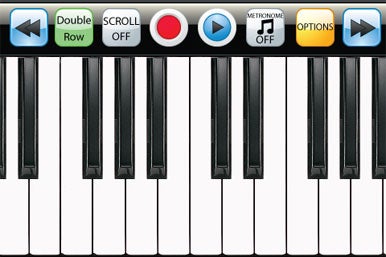 The standard piano voice is very good, but the Plus version's additional eight instruments sound very artificial. The process of switching between voices is odd; after you've you switched instruments a couple of times, when you try to select a different one, a message will appear telling you to close the app and reopen it to make others available. Additionally, I had wanted to record a passage in the piano voice, and then play along with it using the flute voice, but that doesn't appear to be possible because my recording switched voices too.
I think that the Pocket Piano apps suffer the same limitations as other apps that try to mimic a traditional instrument on the iPhone. The iPhone's multi-touch screen begs for a completely different type of musical instrument interface. Some apps, like BeBot Robot Synth, do this extraordinarily well. Instruments like the piano keyboard and the guitar just don't make this transition, in my opinion.
Despite my criticism, I have the feeling that Pocket Piano and Pocket Piano Plus are apps that people will either love or hate. If you're looking for a music app to simply play around with, rather than something to actually make music with, then you might be satisfied with either of these apps. For me, though, neither version makes the grade.
[Brian Beam is a musician, web developer and partner with BOLD Internet Solutions, living somewhere near Kansas City.]