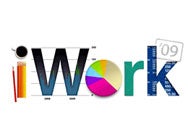 Apple released an update to its iWork suite of personal productivity tools on Monday. The iWork '09 9.0.3 includes fixes for suite-wide issues as well as for the individual apps that make up iWork.
For all iWork apps, the update improves image handling when you reduce the file size of images with Instant Alpha applied. (Instant Alpha was introduced in iWork '08; it lets you make image backgrounds transparent without having to use a third-party image editor such as Photoshop.) In addition, the update improves file-size management when you insert some movies.
iWork's help features have been updated, and there's a now a link to online resources in the Help menu. Finally, iWork 9.0.3 addresses general compatibility issues across the suite.
As for Keynote, the update improves the reliability of guides in the presentation app by changing the display frequency and relevance. It also resolves an issue with with GarageBand exports. There are number of fixes involving charts, including resolutions for issues when working with Move actions in chart builds, pasting a Numbers table that has cells with wrap turned on, and previewing some charts in the Build inspector. Pasting multiple cells containing duration or date/time values into the Chart Data Editor would only paste zeroes—that issue is fixed with this update, Apple says.
Other Keynote-specific fixes include tackling an issue where a laptop battery would run out of power when playing a presentation and improving reliability when dragging-and-dropping text in Outline view.
Pages also exhibited the same bug where copying and pasting multiple cells with duration or time/date values would paste only zeroes. As with Keynote, the update fixes that in Apple's page-layout application. Other Pages changes include improved reliability when working with objects in Full-Screen mode and fixes for some issues involving the citations from the EndNote bibliographical software.
Numbers fixes several bugs as well, including issues with columns and categorized checkboxes, categories and CSV export, and formulas that stopped working after you formatted a cell. In addition, the update improves the reliability of importing and exporting some Microsoft excel files, among other fixes.
There are also changes for the iWork.com beta, the online document sharing component to the iWork suite. The update adds 128-bit SSL encryption and document password protection. There's a new Comment notification feature aimed at improving document reviewing capabilities. And e-mail invitations are now sent via iWork.com instead of OS X's built-in Mail application.
Apple has posted more details about the iWork 9.0.3 update on its Web site. The 59.62MB download is available from the Web site or Software Update; it's recommended for all iWork '09 users.