Even if you've cleared out old, outdated contacts, you'll still find that one of the most obvious sorts of address book clutter is multiple entries for the same person. This happens most often when you add records that differ slightly—for example, one for "Bob Smith" and another for "Robert Smith," or ones listing different e-mail addresses or other contact info. Cleaning up these extra entries is easy in Address Book and doable, if a bit more complex, in Entourage.
Cleaning up duplicates in Address Book In Address Book, choose Card -> Look for Duplicates. The program searches for cards with identical first and last names, and if it finds any, it gives you only two choices—Cancel (to do nothing) or Merge (to combine the cards for each matching contact into a single entry). Click on Merge to merge the cards. Unfortunately, Address Book doesn't tell you which entries were duplicated or let you merge selectively, so this technique will do more harm than good if you have multiple contacts that share both first and last name. Likewise, it doesn't recognize slight variants in spelling, or nicknames, as belonging to the same person.
In such cases, merging cards manually is the better technique. To do this, select two or more names in Address Book and choose Card -> Merge Selected Cards. Address Book combines the data into a single record. If any of the fields directly conflicts with the information in another card (say, two different company names), Address Book picks one of the entries for the main card and puts the conflicting information from the other card in the Notes field.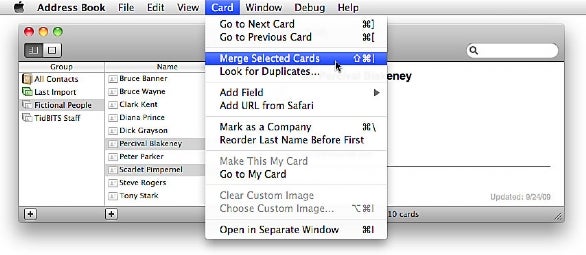 Cleaning up duplicates in Entourage Microsoft Entourage 2008 ( ) lacks built-in commands for finding or merging duplicates, but you can do either with a bit of AppleScript help. One approach is to click on the Name column header to sort your contact list by name and scan it to look for consecutive entries with identical names. Then use Paul Berkowitz's free Merge Two Contacts 1.0.1 AppleScript. After storing the script in /Users/yourusername/Documents/Microsoft User Data/Entourage Script Menu Items, switch to the address book in Entourage, select one of the entries of any pair of duplicates, and choose Merge Two Contacts X from the Scripts menu. In the two dialog boxes that appear next, click on OK and Merge Links, respectively, and then (at your option) No or Open when asked if you want to open the merged contact. The script combines the two records and deletes the extra one.
However, if you need to merge two contacts whose names aren't identical, you need a slightly different approach. Download Eric Hildum's free Merge Contacts script and install it as described previously. Select two contacts, choose Merge Contacts from the Scripts menu, and click on OK. Then, if the first and/or last names differ, follow the prompts to choose which name to use or to enter a new one. The script combines the cards, but leaves the old card for one of the contacts intact. You must select the old card and delete it manually.
Senior Contributor Joe Kissell is the senior editor of TidBits and author of numerous ebooks about OS X.