For many Mac users, Apple's own iCal application is sufficient when it comes to scheduling their lives, but for those irked by its limitations, there are alternatives. BusyMac's new BusyCal 1.0, released on Tuseday, is a dedicated calendaring program that aims to exploit the opening left by iCal's own shortcomings for power users—BusyMac even goes so far as to bill it "iCal Pro."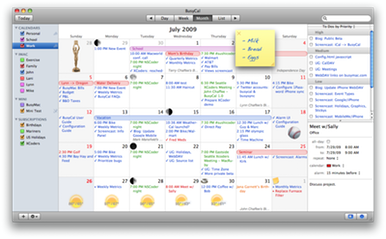 We last saw a pre-release version of BusyCal at Macworld Expo in January. Sure, its interface may look like iCal's, but don't be deceived: below the surface lurks a powerful engine that allows for syncing calendars with other users on a LAN or with Google Calendar. BusyCal also features a list view for scrolling through events (a bit like the iPhone Calendar app), the ability to create recurring To Do items, display of sticky notes or live weather inline on the calendar, custom font styles for events and notes, and more.
Sync remains BusyCal's marquee feature—little surprise as it grew from BusyMac's Eddy Award-winning utility BusySync. In addition to Google Calendar, BusyCal allows for syncing with iCal, MobileMe, the iPhone, and any other device that supports Mac OS X's Sync Services. It's even compatible with BusySync if your friends or co-workers decide not to make the switch.
Available now, BusyCal requires Mac OS X 10.5 Leopard or Mac OS X 10.6 Snow Leopard and costs $40 per computer. Buy multiple copies and you'll snag a 20 percent discount; if you're a registered owner of BusySync, you can upgrade to BusyCal for just $10.