Yes, of course, you can use your iPhone like a Palm or a BlackBerry, upon which people have written whole political treatises and entire novels. You can create and share documents, too, including spreadsheets. An app such as Documents To Go will even let you work with Microsoft Word and will support Excel eventually.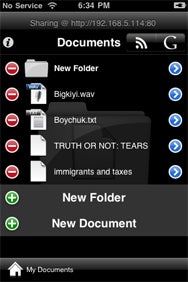 Business applications for the iPhone and iPod touch are becoming more sophisticated now, spurring competition among developers. Savy Soda's Documents 2 is another suite of applications designed to give users the power. But the all-in-one offering is rather somewhat less than the sum of its parts.
Alas, Documents 2 does not compare well with QuickOffice or Documents To Go, both of which are more powerful, support Microsoft files, and despite a few trade-offs here and there, are relatively hassle free.
Documents 2 boasts eight applications under one umbrella: a text editor, a spreadsheet, document preview, in-app e-mail, a sound recorder, a photo album, and Google Docs connection, which turns out to be the lynchpin—and the ruin—of the entire app. Documents 2 also promises the ability to let you transfer files between the iPhone, iPod touch, Mac, PC, or "any network device with a Web browser." The app is supposed to incorporate Savy Soda's Wi-Fi HD app, which allows you to set up an http server and use your handheld as an external drive, but I was unable to get this feature to work in any of four different locations, including my home.
Although the Wi-Fi functionality would suggest Savy Soda is giving users the sort of wireless tethering previously available only to jailbreakers and other sneaky characters, what you're really getting in practice is access to your Google account.
And you may not even be getting that.
At least I could connect to my Google account. I used Google Docs extensively on a project a year ago, and I still use it from time to time. Although it will have the occasional hiccup, I've never lost a file and the formatting and editing functions are about as fine as one could hope for or expect from a free, collaborative word processing service.
But of the several files from Google Docs I downloaded and attempted to edit on my iPhone with Documents 2, none would open or display text. Not one.
Without that core function, Documents 2 is of extremely dubious utility. Yes, you can create and edit text. But you can also do that with Documents To Go, in MS Word format no less, which you can then sync with your desktop or laptop. Yes, you can create and edit spreadsheets—something Documents To Go currently won't let you do (though its App Store page reports that an update allowing this functionality was submitted to Apple for approval last week), but Quickoffice Mobile will. You can preview (but not edit) files in a variety of formats, including Word, PDF and Powerpoint. With Documents 2, you can shoot, edit and resize pictures and create slideshows. The audio recorder does a pretty good job, letting you play back at 44.1 khz, pause and scroll.
Savy Soda offers a free version called Documents 2 Free, which includes the text editing, spreadsheet, e-mail and Wi-Fi features broken up with banner ads. It's certainly possible that some user, somewhere, may find that Documents 2 meets his needs. Testing the free version would be a good way to see if you are that user. But if you are looking for a document app that allows you to work with Microsoft files, collaborate in Google Docs, transfer files easily and without errors, and doesn't drive you completely insane, then I cannot recommend Documents 2.
[Ben Boychuk is a columnist and freelance writer in Rialto, Calif. Feel free to e-mail him.]