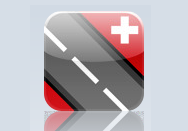 I admit, sometimes I forget the iPhone is a phone. When a couple voicemails didn't show up recently, I thought nothing of it until a friend asked me if I'd gotten his message—people just don't call me that often. But a phone it is, as some users are reportedly being reminded when they get phone calls from the publishers of a free app they've downloaded from the App Store.
The application in question, mogoRoad, is a real-time traffic monitoring application available in Switzerland. Several commenters on the store say they've received phone calls from the company behind the application after they downloaded the free version, inviting them to shell out money for the full version.
As invasive and despicable as that sounds, it raises another question: how did the company get ahold of the contact information for those users? Mogo claims the details were provided by Apple, but Apple doesn't disclose that information to App Store vendors. French site Mac 4 Ever did some digging and determined it was possible—even easy—for an app to retrieve the phone number of a unit on which it was installed.
I talked to developers who said that while Apple's iPhone software development kit doesn't provide a built-in way to access the device's phone number, the information can still be indirectly retrieved with relatively little trouble, as this Ars Technica article from January explains. Mac 4 Ever claims that this ability has been around since iPhone OS 2.1.
Seeing as there are few things I hate as much as unsolicited phone calls—well, maybe unexpected nuts in cookies—I'd call this is a serious privacy concern. Apple handles a lot of all of our personal information and claims to take it seriously, as as is evident by the privacy policy on its site. While there may not be a technological solution to this problem—much as I hate to say it, it seems like this is more part of a "feature" rather than an out-and-out security hole—Apple should still be bringing down the fires of heaven on any vendor who abuses this information.