Editor's Note: The following article is reprinted from the Today @ PC World blog at PCWorld.com.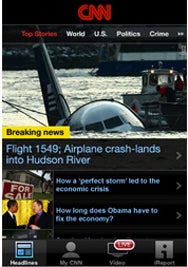 On Tuesday morning, CNN introduced an iPhone app that puts to shame similar products. Featuring live newscasts, video-on-demand, and a familiar iPhone interface, the CNN Mobile iPhone app also takes a step ahead of other news apps by charging $2 for the download.
NPR, Thomson-Reuters, Time Magazine, Associated Press, and Financial Times all have some snazzy apps delivering content to mobile users, free to download. CNN was late in delivering a dedicated news app for the iPhone, but now arrives in style with a novelty app that brings both live video from the news channel and on-demand content.
The $2 CNN iPhone app is now available for download in the iTunes store (U.S. only at the moment). Besides the regular text and photo content that a free single-source news app usually delivers, the CNN iPhone app steals the spotlight with live video streaming for breaking news and on-demand video of recent newscasts.
Push notifications will display an on-screen message, alerting you when live newscasts are available through the CNN iPhone app, and best of all, you can watch CNN live breaking reports over Wi-Fi, 3G, or EDGE. There will be no pre-roll video ads in the live news feeds but still ads will display while the video loads.
You can navigate through text and photo stories in the headlines section of the CNN app for iPhone and each story is summarized by an image and two bullet points of text. A further scroll down will reveal the whole text of the story and you can navigate through stories both vertically and horizontally.
Holding the iPhone in landscape mode will reveal a CoverFlow-style story slideshow, similar to how the iPod app displays album art in landscape mode. Social media sharing is integrated into the CNN app for iPhone so you can share stories you enjoyed on Twitter, Facebook, e-mail, or SMS.
Other features of the CNN app for iPhone include offline reading of selected stories, customized weather forecasts, keyword searches, and iReport photo uploading from the iPhone 3G and video from the iPhone 3GS.
It's worth noting that international news channel France 24 has been offering a free app for a few months now that delivers live streaming of the channel's programming, but the CNN iPhone app, even with the $2 price tag outshines most of the competitors' free apps.