Let me guess, you love NPR? I know I do, and lucky for the both of us, NPR loves us right back with the NPR News app for the iPhone and iPod touch.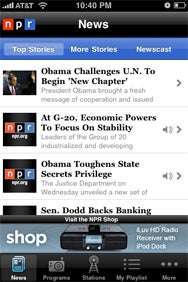 NPR has done a great job of meshing online content with its on-air material to create a full-featured iPhone news app. If you are familiar with the broadcaster's Web site (be it the regular or mobile version), then this app will be familiar territory for you, just in a slightly more convenient package.
The prominent feature of NPR News is, surprisingly enough, news. The main screen presents multiple news categories which allow you to browse the current news, view news photos, and listen to audio clips from the related broadcast, as well as the hourly newscast. If you'd like to tune into your local news, you can also find the live stream for any public radio station in the country that supports it and even set a list of favorite stations for easy access.
If you're a fan of the regular programs that NPR broadcasts, this app has got you covered. Much like the online NPR experience, the NPR News app gives full access to the broadcaster's podcast archive; you can listen to podcasts individually or add them to a playlist that can handle all of the audio content in the app.
What really sets NPR News apart from other apps is its sharing abilities. Once configured, you can share any news story with friends using e-mail, Twitter, or Facebook with a single click.
Simply put, if you like NPR and find yourself with a craving for great public radio on the go or simply don't have access to a computer or radio, this application is a great solution. It has its drawbacks in lack of textual local news and push notification of breaking news. And since it's a free app, you'll have to contend with ads. Still, that's a small trade-off to make for such a well-done app.
[Rob de la Cretaz is a full-time polymath and a proud resident of Pittsburgh.]