There's a thin line between parody and imitation. If it's funny, then it's parody. If it's not, you're going to get sued. The space-based war in Earth Vs. Moon is a parody and homage to Missile Command, using the classic game premise and mixing it with a nonsensical plot, references to Internet culture, and 1950s sci-fi campiness.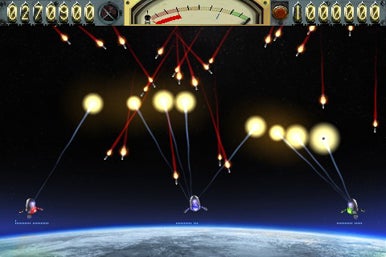 Developed by Low Five Games, Earth Vs. Moon doesn't shy away from the comparisons to old-school gaming; rather, it seems to relish and enjoy the campiness of arcade games long gone. In between missions where you launch missiles from your orbital satellites to blow up enemy missiles and UFOs, you'll enjoy laughing at the numerous references to other games sprinkled throughout.
You command three defense satellites that are Earth's last line of defense against the forces of the Moon. These missile platforms are your only means of blowing up enemy missiles, UFOs, dropships, and bosses. The graphics are flash-game quality, but that just adds to the old-school feel of the game. Each mission will give you a certain amount of ammo and a certain number of enemies. For every missile that slips through your defenses and hits earth, you lose a life. You lose a mission either by losing all three satellites or by letting earth turn into an uninhabitable fiery crater.
If you lose, you'll be informed that "Epic Fail: all you base are belong to moon"—a sentence that combines more than one Internet meme. The mission titles are also humorous, featuring missions labeled "It just got harder" and "Don't probe me, bro!" There's also a mission that is an homage to a Space Invaders level, complete with the alien ships' increasing speed and continued moves left and right.
The game utilizes the iPhone's touchscreen technology to create a surprising intuitive and fun control scheme. Simply tapping on a point in space will send a missile there. Double tap on your satellites and they'll deploy temporary shields. And if you want to send up an entire array of missiles, you can drag your finger on the touchscreen with simple gesture. It's simple, it's fun, and it's accurate.
But by no means is the game easy. The story mode features 20 levels of missile action, and you'll quickly learn the subtleties and tactics of success. The initial levels only deal with enemy missiles and the occasional UFO. But the levels get more difficult as your ammo runs out and the enemies increase. You'll have to learn how much lead to give incoming missiles in order to hit more enemies with a single missile. By taking out more than one enemy with a single missile, you'll be rewarded with more ammo.
The later stages, particularly those that feature bosses, require you to harness your accuracy to not only take out clusters of enemies, but also to deflect their attacks back against them. One boss, in a Pong-like battle, requires you to knock a bouncing "moon ball" back at the enemy with your missiles. Your enemy of course has its own paddle to deflect the ball back to you. This clever and difficult level helps break up the monotony of simple missile command levels.
The game has moments that show its low budget, however. You can pause Earth Vs. Moon, but you can't save mid-mission, which is a real shame for players on the go. There are typos on some of the mission screens and there isn't much unlockable content, even after the 2.0 update added some new weapons and other bonuses. You can unlock survival mode and a boss battle mode, but this isn't exactly new content as a remixing of already present themes. There's a perk store that will let you buy some new upgrades, but there are only a handful of options currently available. Though low-budget, the partnership with Open Feint allows Earth Vs. Moon to have social elements like leaderboards and rankings that lets you connect with the game's community.
Bottom line: Earth Vs. Moon is fun for a good 15 minutes, and is ideally suited for short play sessions. While there's been a push of late to make iPhone games as deep and complex as console games, it's nice to see a simple and classic game concept get a worthy iPhone vessel.
[Chris Holt is an assistant editor with Macworld.]