Looks like Apple's taking some of the criticisms of its App Store to heart. On Tuesday, the company unveiled a new section of its Web site, Apps for Everything. Broken down into a handful of different categories like Apps for Cooks and Apps for Music, the collections consist of apps related to a specific topic.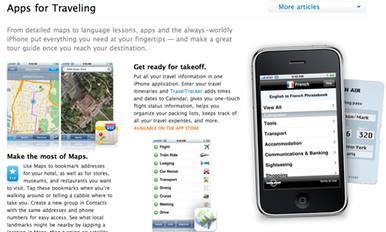 There are currently 12 different collections, each featuring between eight and 24 applications along with tips for using the built-in features of your iPhone. You might be traveling, for example, in which case Apple recommends apps like Frommer's travel guides or Currency for dealing with conversion rates and suggests tips such as using the Maps app to bookmark locations and remembering to turn off data roaming to save money. The section also features lists of the top ten paid and free lists for the Travel category in the App Store.
With more than 85,000 applications in the App Store, one common complaint is that it's gotten harder and harder to find quality apps. Apple's Staff Picks section (also available via the iPhone section of its Web site) is well known to draw attention to particular applications and these new Apps for Everything collections seems to be an extension of that. We don't yet know whether Apple will be adding more categories to its Web site in the future, or changing the composition of its existing collections.
Of course, we'd be remiss if we didn't mention that Apple's new venture resembles—uncannily, some might say—our own App Guide essentials collections to which we regularly add new content assembled by the Macworld editorial staff. But at least we can all agree that it needs to be easier for consumers to find the best apps.
[via The Loop]