At a Glance
Expert's Rating
Pros
Very small design
Full feature set
Interchangeable lenses
Excellent image quality
Cons
No movie mode
Small lens selection
Electronic viewfinder is difficult to see in low light and has limited dynamic range
Our Verdict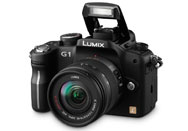 You have to understand a few fundamentals of digital camera design to decide if Panasonic's Lumix DMC-G1 is the right camera for you. Currently, the digital camera market is divided into point-and-shoot cameras and single-lens reflex (SLR) cameras. The Lumix DMC-G1 serves as something of a bridge between these two markets, an ideal compromise for anyone who wants more than a point-and-shoot but doesn't want the bulk of an SLR.
Point-and-shoot cameras use very small sensors, typically lack an optical viewfinder (you always use the LCD as a viewfinder), come in a huge range of sizes and prices, and pack a very wide range of features. SLRs have larger sensors, usually offer removable and interchangeable lenses, and have big bright optical viewfinders that look through the same lens that exposes the sensor.
Obviously, there are advantages to both camera types. Point-and-shoots can be very small and can be had for under $100. The image sensors in SLRs offer better image quality and low-light performance, and the ability to change lenses gives you far more shooting options and creative possibilities. All SLRs include advanced control options that provide good manual control, as well as the ability to shoot using the Raw file format for additional editing power.
How to shrink a camera
The Four Thirds Consortium is composed of seven companies (including Panasonic) who agreed upon certain specifications. Cameras that meet the Four Thirds spec all share the same lens mount so they can exchange lenses, and they all have sensors of a particular size.
Four Thirds cameras, such as the Olympus E-3 ( ), and Panasonic's own Lumix DMC-L1, are not significantly different from other SLRs. The Lumix DMC-G1, though, conforms to the Micro Four Thirds specification, an offshoot of the original Four Thirds system, and it offers some important design changes from the SLR.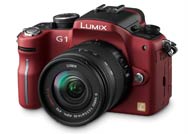 In a SLR, a large mirror sits in front of the image sensor. This mirror bounces the light from the lens up into a prism or system of mirrors, which in turn get the light to the viewfinder. When you press the shutter button, the mirror in front of the sensor flips up to allow the light to pass on to the image sensor. This whole complex "reflex" system takes up a lot of space, and is one reason that SLR designs can't go below a certain size.
The Micro Four Thirds specification lays out a camera design that lacks a mirror chamber, and moves the sensor closer to the back of the lens. The lack of a mirror chamber allows for a smaller camera body, while moving the sensor closer to the lens allows for smaller lens design. All of this means that Micro Four Thirds cameras and lenses can be made much smaller than those from a traditional SLR.
Size is the first thing you'll notice about the Lumix DMC-G1. It is dramatically smaller than the smallest SLRs on the market (cameras such as Canon's Rebel T1i [ ] or Nikon D60), yet it retains the familiar look and feel of an SLR. You can easily hold the camera in the palm of your hand, yet its molded hand grip and familiar body design make it easy and comfortable to use.
The very small 14mm to 45mm f3.5 to f5.6 kit lens (28mm to 90mm equivalent) uses the same type of bayonet-style mount that you'll find on any SLR, yet when you remove the lens you won't see a mirror. What you'll see is the image sensor, as Panasonic's design leaves the shutter open when the camera is powered down. Needless to say, you'll need to be very careful when changing lenses to ensure that the sensor stays clean and dust-free.
The cameras has a very well-designed control layout, with a mode dial on the top, and external buttons for all critical functions: ISO, white balance, exposure compensation, burst and focus modes, and exposure lock.
A large flip-out LCD screen offers fantastic quality, and while the Lumix DMC-G1 sensor has a 4:3 aspect ratio, the LCD screen has a 3:2 shape. The camera can crop to a 4:3 or 16:9 aspect ratio, and the large rectangular screen is a smart move by Panasonic, as many people will want to shoot with the traditional 3:2 size (the same as 35mm film).
The G1's interface and controls offer little to complain about. The camera feels very sturdy, offers an intuitive interface, and is very very small.
And then there's the viewfinder
Without a mirror chamber, the Lumix DMC-G1 has no way to bounce light up into the top of the camera to facilitate an optical viewfinder. For this reason, Panasonic has placed an electronic viewfinder (EVF) on the top of the camera. This is basically a second LCD screen that gives you a viewfinder that's akin to what you'd find on a video camera.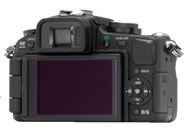 EVFs have been around for a long time and they've always been fairly awful. By sacrificing the mirror chamber to gain a size advantage, Panasonic has committed themselves to an LCD-only viewfinder system. But the Lumix DMC-G1's EVF is far better than any I've previously seen. There are no visible pixels in the screen, it's big and bright, and offers good color reproduction. Like all LCD viewfinders, it can offer far more status information than what a typical viewfinder can display, which is a real luxury.
However, as good as the Lumix DMC-G1's EVF is, it's still a far cry from a true optical viewfinder. The first problem is low light. When light levels dim, you'll have a much harder time seeing through the viewfinder. The on-screen image will become very dim, exhibit skewed color, and become noisy.
The second problem is that because the image on the EVF is derived from the camera's image sensor, it displays far less dynamic range than what your eye can see. This means that if you're looking at a scene with a lot of variation in brightness—a bright sky with a dark shadowy area under a tree, for example—then you're not going to be able to see any details in the dark shadowy area. This can make composition more complicated, and I find it to be a big distraction.
You can also use the camera's swiveling LCD screen as a viewfinder, just as you would a point-and-shoot camera, or the Live View mode on a standard SLR.
The Lumix DMC-G1 is, essentially, an all Live View camera, and if you've ever used Live View on a normal SLR, you know that focusing can be a slow, tedious process. This is not the case with this camera, which offers a very speedy, very capable focus, with all of the cool focusing features that Live View brings, such as the ability to choose any point in the scene as a focus point. Face detection and excellent motion tracking are also provided.
Features
The Lumix DMC-G1 provides all the features you'd want in a serious camera—decent burst speed of 3 frames per second, priority and manual modes, Raw shooting, a thoughtful selection of scene modes—and gobs of features you probably won't use so much, such as the ability to apply lots of image editing effects within camera.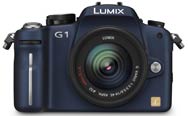 The Lumix DMC-G1's kit lens is stabilized with Panasonic's Mega Optical Image Stabilizer (OIS) system, which provides a very capable 3-stop stabilizer.
You can use any Four Thirds system lens on the Lumix DMC-G1 (such as any of the excellent lenses made by Olympus) but you'll need an adapter, and the lenses will seem fairly huge on the camera's tiny body. Panasonic also sells a 45mm to 200mm f4 to f5.6 (90mm to 400mm equivalent) lens, which is also stabilized. Lens selection for the Micro Four Thirds system is currently pretty limited, so if you want a wide range of options, you may have to wait.
Curiously, the Lumix DMC-G1 does not have a movie mode of any kind. Given that even inexpensive point-and-shoots have this feature, and there's no technical reason to leave it off, this is an annoying omission.
Image quality
The Lumix DMC-G1 is fitted with a 12.1 megapixel sensor, and the camera produces very good images. Thanks to its larger sensor, the camera's higher ISO settings (the G1 offers ISO 100 to 3200) yield images with much less noise than equivalent ISOs on a point-and-shoot camera. The Lumix DMC-G1 truly does yield SLR-quality images.
Another perk of the camera's larger sensor is that it's possible to shoot images with shallower depth of field than what you can capture using a point-and-shoot. This allows you some extra creative freedom.
Macworld's buying advice
And so, Panasonic (and the rest of the Micro Four Thirds consortium) has designed a camera that sits somewhere between a point-and-shoot and an SLR. While it's much closer in size to a point-and-shoot, it delivers the quality, features, and some of the shooting experience of an SLR. The Lumix DMC-G1 is still not a pocketable camera, due to its size and weird shape, but if you've been hesitant to carry around a bulky SLR, the Lumix DMC-G1 might appear to be much more reasonably sized.
Specifications
| | |
| --- | --- |
| Resolution | 12.1 megapixels |
| Focal length (35mm equivalent) | 20mm to 90mm |
| Battery type | Rechargeable lithium-ion |
| Media slots | 1 (SD) |
| Size (width x height x depth, in inches) | 4.9 x 3.3 x 1.8 |
| Weight (in ounces) | 13.6 |
SLR shoppers will be put off by the limited lens selection and lack of a true viewfinder. But if you want better quality than what you can get from a point-and-shoot and aren't interested in the bulk of an SLR, the Lumix DMC-G1 will afford you plenty of photographic power and a lot of room to learn and grow.
[Macworld senior contributor Ben Long is the author of Complete Digital Photography, fourth edition (Charles River Media, 2007). More of Ben's work can be found at Complete Digital Photography.]
[Editor's note: Updated on 10/12/09 at 10:10AM PT with the correct weight.]