SmileOnMyMac Software has updated PDFpen, incorporating Nuance Communications' OmniPage OCR engine into the PDF editing program.
PDFpen 4.5 uses version 15.5 of the OmniPage OCR, replacing the Tesseract open-source OCR engine in PDFpen on Intel-based Macs. SmileOnMyMac lauded the OmniPage OCR engine for its accuracy.
Beside the new OCR engine, PDFpen 4.5 lets Snow Leopard users scan directly into the application from Image Capture or TWAIN scanners. There's also a new text highlighting tool that selects and highlights text in a single action.
The 4.5 update is free for registered users of PDFpen 4.x. The PDF editing application costs $50, with a Pro version available for $100. Both PDFpen and PDFpenPro run on Mac OS X 10.4 and later.—Philip Michaels
Typinator features DropBox syncing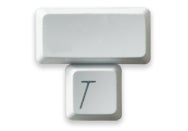 Ergonis Software released a new version of Typinator, its text-replacement utility. Typinator 3.6 features automatic syncing with DropBox, a tool for syncing files across multiple machines (and online). Taking advantage of the new capability is as simple as modifying Typinator's preferences to store its settings folder within the DropBox folder.
The updated Typinator also allows abbreviations that begin with a space, features a simplified registration interface, and offers numerous speed and memory usage improvements.
Typinator 3.6 is available now from the company's web site, for €19.95 per single-computer license, or €34.99 for a two-machine license. The update is free to anyone who bought the application in the last two years.—Rob Griffiths
Real Software updates development applications
RealBasic and Real Studio 2009, Release 4 shipped Tuesday, adding 97 enhancements and 39 new features to the cross-platform software development tools, according to developer Real Software.
Leading the changes to this latest version of RealBasic is a new report editor, which Real Software says will be included in all RealBasic versions. The report editor lets developers visually create a layout for printing by dragging and dropping labels, fields, images, and more. The editor creates both single- and multi-page reports.
Real Studio also gets a new build animation feature for its Project Editor. The feature lets developers automate the most common functions of building applications without having to write IDE scripts.
A complete list of what's new in Release 4 is available on Real Software's downloads page. The software maker also provides a video highlighting new features in RealBasic and Real Studio.—PM
Macvide announces VideoFlash Converter 2.9
Macvide has announced VideoFlash Converter 2.9, an update of its video-to-Flash conversion utility for Mac OS X.
VideoFlash Converter allows conversion of QuickTime-compatible video files to Adobe Flash. It supports many formats including AVI, WMV, MOV, MPG, ASF, and DivX. The application automatically provides ideal default settings and offers the flexibility to crop video, set duration, adjust quality, and control many other audio and video preferences.
Version 2.9 also includes a new Web update and other fixes.
You can use the program to have Flash videos play directly in a Web page, not in a new window or separate page. VideoFlash Converter gives you the option of creating an HTML file along with the video and lets you customize how viewers see it. You can designate that the video start automatically and continuously play when viewers access the page, for example. The app also integrates with iWeb.
The software works with OS X 10.4 (Tiger) or 10.5 (Leopard) and is a Universal app. VideoFlash Converter is available for $40 per single license, and can be downloaded from the Macvide Web site.—Jackie Dove
Algoriddim releases Djay3
Algoriddim has released Djay 3, a revamped version of its music software application for Mac and iTunes. It offers a host of new features, including automatic tempo and beat detection, auto-cut scratching, and MIDI support.
The program's interface has also been redesigned. With the new version, users can match the playback speed of two songs for a perfect transition. In addition, the Auto-Cut feature allows users to scratch music in sync with a song's beat and rhythm.
The changes are aimed at making the program easy enough for novices while letting professional DJs do more with their mixes.
Djay 3 costs $50. A free 15-day trial is available from Algoriddim. The software runs on Mac OS X 10.4 or later.—JD