At a Glance
Expert's Rating
Our Verdict
We've recently been reviewing 2.0 speaker systems—which comprise compact, powered left and right speakers—for your Mac. Compared to 2.1 speaker systems, which use smaller, left and right satellites for higher frequencies, plus a larger subwoofer/amplifier component that sits under your desk and produces lower frequencies, a 2.0 system takes up considerably less room. On the other hand, a 2.0 system usually can't provide the same kind of bass punch and extended frequency range as a good 2.1 system.
Creative's GigaWorks T40 Series II (T40 II from here on out), the company's top-of-the-line 2.0 system for computers, is the latest set we've taken for a spin, and it stands out for its size, audio quality, and flexibility.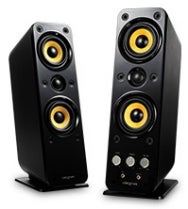 Each of the T40 II's black-plastic speakers stands 12.5 inches tall when placed on the included screw-on base—quite tall for desktop computer speakers. Each is 3.5 inches wide and 5.5 inches deep, although because each speaker is angled upwards slightly, the total depth is closer to 6.5 inches. The screw mount on the bottom of each speaker can also be used to mount the speaker on a wall, a nice touch.
The back of the right-hand speaker hosts ports for connecting the included AC adapter, the left-hand speaker (using a 5-foot cable permanently attached to the left speaker), and your computer (using the included 6-foot miniplug-to-miniplug cable). Also included is a handy RCA-to-miniplug adapter for connecting the system to an audio source that uses standard left/right RCA cables.
But the most unique connector you'll find here is a multi-pin jack labeled "To Docking Station." This special jack lets you connect Creative's iPod Docking Station, a dock that features a wireless remote control, Creative's X-Fi audio processing, and power to charge your iPod. This is a useful option that gives the T40 II more flexibility than typical computer speakers.
Each speaker sports a removable black-mesh grille covering three speaker drivers: two 2.5-inch lower-frequency drivers with a 1-inch tweeter in between. A port on the top of each speaker enhances bass response.
The front face of each speaker is finished in a glossy-black plastic. With the grilles removed, this glossy finish and the gold-colored, woven-glass-fiber drivers give the T40 II a high-tech look; with the grilles on, the system looks much more conservative. I found the Creative system to be fairly attractive either way.
Finally, just below the right-hand speaker's are the system's controls—a power/volume knob, along with knobs for adjusting treble and bass levels—as well as a 1/8-inch (3.5mm) headphone jack and an audio-input minijack for connecting a second audio source. These controls and jacks are conveniently placed and attractively finished. A ring of blue light surrounds the power/volume knob when the system is in use.
Though the T40 II uses smaller low-frequency drivers than most of the other 2.0 speaker systems we've tested, the combination of dual drivers in each speaker along with a large, ported enclosure make for better bass performance than I expected. The T40 II's bass response doesn't begin to roll off noticeably until around 90Hz, and I was surprised to be able to hear bass notes as low as 65Hz (though those frequencies were significantly quieter than higher frequencies). As with most small-driver speakers, you do get a bit of boominess in the lower-midrange and upper-bass frequencies, especially at louder volumes, but the effect is less bothersome with the T40 II than with many 2.0 systems.
The T40 II also provides nice treble detail and, as you might expect given the system's four 2.5-inch drivers, strong midrange. On a few tracks during my testing, the mids were a bit too strong, with treble detail a bit recessed, giving the system a bit of a "chesty" sound, but the overall presentation is full and rich—something you don't usually get with compact, 2.0 speakers. (And don't forget that you can tweak the output using the system's treble and bass controls—a welcome bonus.) Finally, with 32 Watts of total power, the T40 II can easily saturate your office or bedroom with sound.
It's tough to find a 2.0 system that doesn't lack bass punch or, in an effort to provide it, go too far in the other direction, producing boomy, thumpy bass. The GigaWorks T40 Series II doesn't avoid this problem completely, and it can't compete with a larger system, but it's an excellent set of speakers that won't take up much space on your desk or countertop. Throw in the extra features—multiple inputs, a connection for an iPod dock, and bass and treble controls—and the T40 II is easy to recommend.