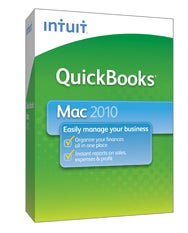 Intuit took the wraps off QuickBooks 2010 for Mac on Wednesday, touting time-saving features and improved business-management tools for its accounting application.
After last year's edition introduced the most significant overhaul of the small business accounting program in almost decade, this latest version looks to build on those changes. QuickBooks 2010 adds some of the features that have been noticeably missing from the application in recent years, though other features enjoyed by users of the Windows version continue to be MIA on the Mac.
Will Lynes, Intuit's product manager for the Mac version of QuickBooks, says the company focused on three areas when working on this year's version of the application: features that save users time, give them insight into making smarter decisions, and make it easier to get paid by customers.
Time savers
Users will be able to get started faster in QuickBooks 2010. Intuit has pared down the Company Setup Assistant from 30 setup screens to just two. The idea, Lynes said, is to "get out of [QuickBooks users'] way, and let them get started."
The updated application provides those users with some assistance once they're ready to use the program. QuickBooks' new GuideMe feature shows users how to get started by pointing them toward the most common actions in the program, including entering customer info, paying bills, creating invoices and sales records, and writing checks. GuideMe also walks users through the basic steps of accounting—"the critical things you need to to to complete a task," Lynes said. The feature uses easy-to-understand language as it guides users from start to finish.
QuickBooks 2010 also introduces a number of ways to tackle routine tasks faster, thanks in large part to the application adopting a number of Mac-like touches. Intuit says the application's preferences window is more OS X-like, making it easier to find and change settings; it also sports a built-in search box. A more Mac-like interface is aimed at making it easier to change print settings and preview print jobs.
Other time-saving changes include the ability to e-mail statements, refinements to the batch e-mail feature that allow users to include a personalized message, and a date picker that helps you enter dates when filling in forms.
Reporting tools
Intuit added a Company Snapshot feature to last year's version of QuickBooks to provide a real-time view of a business's financial picture. The feature returns in QuickBooks 2010, but it's customizable now. You can pick from several different widgets—account balances, customer balances, income and expenses, and expense breakdowns to name a few—and even adjust their sizes.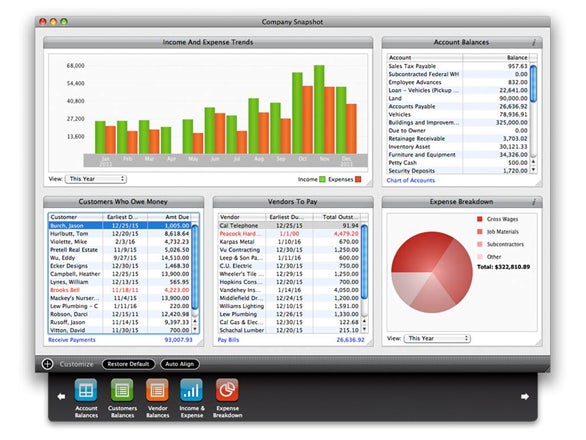 Likewise, in the 2009 version of QuickBooks, Intuit added a Cover Flow-like view to the application's Report Center. This year, the company has added a search feature—just type in a term, and QuickBooks pulls up an abbreviated list of relevant reports.
The 2010 version makes it easier to find reports in other ways, too. Intuit polled accountants to come up with the ten most commonly used reports—those appear under the Suggested heading. Users can also designate reports as Favorites for quick reference, and the application lists recently used reports as well.
Getting paid
Tackling a major omission in past versions, Intuit now lets users accept credit and debit cards from within QuickBooks. The feature is available via Intuit Merchant Service for QuickBooks for Mac, an integrated add-on service that's available for $20 a month.
Similarly, QuickBooks 2010 works with the the Intuit QuickBooks Payroll for Mac add-on to process payroll. This already available add-on costs $25 per month.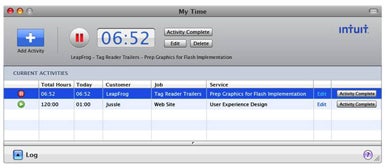 My Time is another add-on—this one is free—that's aimed at helping users organize and track billable time. It also generates timesheets and sends invoices.
What's missing
Intuit's critics are sure to notice that QuickBooks 2010 is missing features found in the Windows version. The updated Mac edition doesn't include online bill pay, and there's no multi-user support. "We are aware of it, and want to address it," Lynes said.
The Mac version is also missing the Intuit App Center, which was added to the recently updated Windows version. That feature allows users to download plug-ins for managing workflow and customers and cutting expenses. While many of those apps are Web-based, they don't necessarily integrate with the Mac, Lynes said, which is why they weren't included with the Mac version of QuickBooks.
When it's available
Intuit says QuickBooks 2010 for Mac should arrive on October 19. It will cost $200.
The program will run on OS X 10.5.7 and later, including Snow Leopard. It's only designed to work with Intel-based Macs. According to Lynes, about 80 percent of Intuit's customers are using Intel hardware. "By focusing on the lone platform, we're able to deliver a better quality solution," he added.