Need a table for ten for Thai in Toronto? Seafood at seven in St. Louis? How about an anniversary dinner in Akron?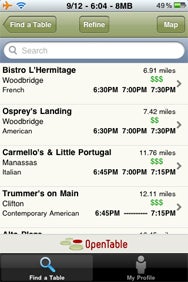 Making restaurant reservations used to be a cumbersome chore, calling from one eatery to the next looking for the best restaurant with available reservations at the right price. OpenTable.com solved that problem for most people—the online site for booking dining reservations has become a reliable, go-to solution. And the potential usefulness of the related mobile app is obvious.
The OpenTable app for the iPhone and iPod touch is well designed and easy to use. With just a touch or two, you are quickly presented with nearby restaurants and their available seating. New reservation seekers will have no problems finding a restaurant and existing users will feel right at home.
If you select the Current Location option, you then choose the date and time of your desired reservation, the size of your party, and how many restaurant results you want to peruse. The app then provides prompt results with a list of restaurants with name, location, and cost indicators based on your location. You can then choose to see details about a restaurant, view the results on a map or refine the search. Selecting a restaurant allows you to finalize your reservation time, read reviews and see menu specials.
If you choose the Select Location option instead, you can pick from pick from the list of metropolitan areas, and then you have the option to search by neighborhood or by restaurant—great for figuring out when you can get a table at your favorite dining establishment—although it defaults to searching all areas and restaurants. To search by cuisine, you must first performa a search, then touch Refine and select the type of cuisine you're looking for—the OpenTable Web site lets you filter by cuisine earlier in the process.
If you have already entered your OpenTable account information, you can finalize your reservation. If not, you can enter it now or create your account for the first time.
Long-time users of the OpenTable Web site will find the app to be satisfying. Search results and common information (costs, reviews, and so forth) match just what you find on the Web site. And you can perform fairly advanced actions like modifying or canceling reservations you made on the web site.
Of course, there is always room for improvement. For example, while the search works well enough, the "refine" function is not as flexible as it is on the Web site. I found I often had to go all the way back to the app's start page to make a change.
Given the social nature of picking a restaurant it would be nice if you could share restaurant information with friends. Why not let me pick a few restaurant, publish them on a site like Facebook and let my reservation mates vote?
Still, if you live in or travel to one of the many areas covered by OpenTable—the app maker says it covers more than 10,000 restaurants in the U.S., Canada, and the United Kingdom—this app definitely belongs on your iPhone.
[Jeffrey Hatton is a freelance writer living in Virginia.]