According to Zipcar, a whopping 25 percent of its members own iPhones. So it was only a matter of time before the urban car sharing service released an iPhone app.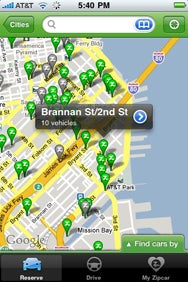 Originally demoed during the keynote of June's Worldwide Developers Conference in San Francisco, the free Zipcar app made its official debut in the App Store this week.
The straightforward program does exactly what you'd expect it to: You can search for nearby Zipcars and sort your query by date and time, type of vehicle, and even specific car models. Tap on any pin on the map to see matching vehicles at a specific location. Each car has a detailed profile that includes a small photo, its hourly rate, a description, and useful information like how much trunk space it has and whether or not there's a bike rack.
Reservations can be made, changed, extended, and cancelled, all from within the app. The coolest feature on the Zipcar app is the Drive screen: With one tap you can lock and unlock your Zipcar, or make its horn honk so that it is easier to find.
The app runs on any iPhone or iPod touch with the iPhone 3.0 OS update installed.