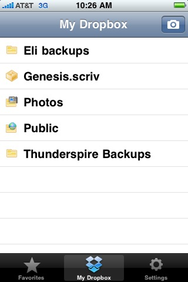 Love your Dropbox, but wish you could easily access your files while on the go? The popular online storage site has released an iPhone application that lets you do just that.
For those unfamiliar with Dropbox, it's pretty similar to MobileMe's iDisk, only awesomer—that's right, I'm not afraid to say it. Dropbox is an online storage site that offers 2GB of free storage (you can pay for more) and lets you sync files between multiple computers. You can also access your files through an online Web interface and share them with friends. Best of all, Dropbox keeps a history of changes to your files, just in case of you need to go back to an earlier version.
The new iPhone application allows you to log in to your Dropbox, view your files (presuming, of course, that it's in a format the iPhone supports), and even save files to your phone for offline reference. You can also upload videos and photos stored on the phone or, if the mood strikes you, take a photo or video from right within the Dropbox app for uploading. In-app mail even lets you send a message with a link to the file. It's not perfect, though: for one thing, the photo viewing leaves a little bit to be desired, as it doesn't let you zoom in or out.
All in all it's pretty handy and it's a great way to easily access files when you're away from your computer. The Dropbox application itself is free, though it requires a Dropbox account. It runs on both iPhones and iPod touches with iPhone OS 3.0 or later.