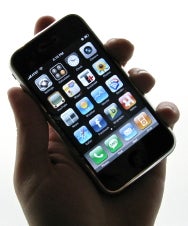 A new study by the CFI Group reports that the iPhone has taken the top spot in customer satisfaction. The company surveyed over 1,000 smartphone users and the iPhone (surprise, surprise) came out as the top dog.
With a score of 83 out of 100, the iPhone beat out its next closest competitors (that would be the Android and the Pre) by six points. This data jibes with other recent iPhone survey data which show that iPhone 3GS users are happy, and a rather unscientific Technologizer study from about a year ago, that iPhones users love their choice.
Further, 92 percent of iPhone owners surveyed said that it was the "ideal" handset. That's high praise—but it's not nearly as much of a lovefest for AT&T.
iPhone owners on AT&T scored the network at 69 points, the lowest of any of the mobile operator and well below T-Mobile, Verizon and even Sprint. Even non-iPhone AT&T users gave the network a higher rating. Another survey from last year showed dissatisfaction with AT&T's 3G network; it appears not much has changed.
As a proud T-Mobile customer running a jailbroken iPhone, I've yet to experience any of the AT&T overloads and poor customer service that I've heard about from friends. Perhaps someday we'll have our choice of carriers.