Snipe your enemies through a scope. Buy sci-fi weapons in your quest for multiplayer supremacy. Own some noobs. Sound like another high-end, first-person shooter for the PC? Think again. Thanks to Ngmoco, online multiplayer FPS action is coming to the iPhone.
Eliminate was first revealed at last year's Game Developers Conference. But it wasn't until a Ngmoco preview party on Tuesday that we were able to get our hands on the game.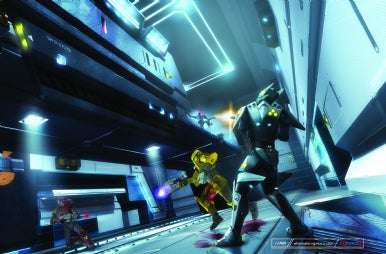 The game is set in the testing area of Arsenal Megacorp, a futuristic weapons maker that uses its employees to test its weapons. A campy intro video narrated by a robotic female voice explains the rules of the game. You earn credits by performing well in combat, and credits can be used to upgrade your armor, buy new items, armor sets, or weapons. You will also earn new levels and skill ratings as you go, unlocking further content to utilize.
If you're ever lost, you can click on the "WHERE TO FIND" buttom, aka the "WTF" button. (Clearly, the developers were having some fun with this title.) The sleek icons and futuristic-corporation-using-human-test-subjects motif recalls Portal, Valve's darkly clever puzzle/shooter title of 2007. Even the female voice narrating the intro video made several game journalists comment on the similarity to GLaDOS, the homicidal AI you're confronted with in Portal.
Currently, the game is limited to four-player death matches. Online play is the focus, but there is an offline mode where you can fight against bots. I managed to jump into a bot match briefly, and can attest that the AI isn't what the developers have been focusing on.
But as producer Chris Plummer puts it, the "Heart and soul" of Eliminate is online. There are five maps available to play, with three-minute matches being the average play length. You can host private matches with friends or find a game online to compete against people across the world. Plummer claims that the system takes into account both skill and number when matching up players for games.
Eliminate also includes a true staple of online FPSs, social features to keep you connected to your friend. It's really simple to add and keep track of your friends online when opening up the world match component. When launching a multiplayer game, you'll see which of your friends are online by a populated list on the left that will also detail their skill levels. If they're not online, you can invite them to join a game through push notification.
The "Gear Up" system is the game's armory. It provides some RPG elements to what is essentially a straight FPS, allowing the players to customize their character with armor classes (Sniper, Commando, Tank, etc), weapons (rocket launchers, shotguns, plasma guns) and skins. You can buy things through credits and have an unlimited inventory, but you can't sell back stuff that you're not using. Plummer demoed the use of the cloaking abilities of one of the commando type suits and then showed us how the Pilot model has jetpacks to augment the player's jumping abilitiy.
You can also level up your character's speed, armor, clip size, aiming ability, and many other factors through the game's in-game currency. "You can buy credits" to put to upgrades but "you can't buy leveling up," explains Plummer.
Once you've got your armor and character set up, you can select up to two weapons to use in combat in a given match. You can only use those two weapons the entire match, so it's a good idea to pick your weapons carefully. The idea is to keep the game's combat going, uninterrupted. For example, if you pause the game while playing, you can still be killed. It's also important to note that instead of picking up guns and ammo in match, you have unlimited ammo for all of your guns, but the tradeoff is your clip size is initially quite small and must be upgraded.
To complete the demo, the developers invited the assembled journalists to play the game against each other in a small tournament. At the end, the leaderboard function would reveal which journalist had acquired the most skill points and the highest level.
The controls are a dual-joystick configuration with the left controlling movement and the right aiming. Touching the screen fires your weapon, holding the screen auto-fires, and tapping the bottom of the screen causes you to jump.
The gameplay reminded me of a cross between Perfect Dark and Quake III Arena. The sci-fi feel is present throughout, and while the levels are plenty navigable, the environments are fairly routine, futuristic, well-lit basements or green-lit sewers. One two-storied level had a large elevator in the middle, while another featured water in the center room with powerups sprinkled throughout.
Since everyone had the same weapons starting out, controlling the spawn points of the powerups was essential to success. I camped near the booster shield powerup for a while and scored several quick frags by using the shield's lethal melee abilities.
I'll admit that initially I found the controls frustrating with the aiming drifting oddly to the left. The first round I couldn't hit a thing and ended up getting killed a half dozen times in the span of two minutes. I invested some experience points in upgrading my aiming ability between rounds, and this seemed to help a bit. After playing for thirty minutes I had unlocked several new guns, including a plasma cannon that acted like a shotgun. As I began to accrue more kills and less deaths, I appreciated the importance of upgrading your character's traits. I later went on a streak with the short-range plasma cannon, and despite my initial troubleshooting problems, still managed to secure second in the tournament.
Eliminate garnered a lot of buzz at GDC this year, and though that seems like ages ago, the game still warranted some pleased smiles and approving nods from the assembled journalists. While other FPSs have premiered on the iPhone, this is the first one to really translate modern online multiplayer action to the platform. The visuals aren't a giant leap forward, but the aesthetic, interface, and ability to customize your character makes this an innovative title worth looking out for.