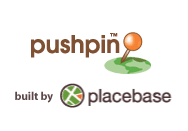 Despite strained relationships between Apple and ex-BFF Google, the Web giant's presence has continued to be felt, thanks to built-in iPhone services like YouTube and Google Maps. However, as Computerworld's Seth Weintraub has pieced together, the latter may under threat from one of Apple's strategic acquisitions.
In July, Apple purchased a company called Placebase. Placebase is a company built around a mapping service similar to Google Maps, albeit with a focus on providing an extensive capability for layering data on top of maps and a robust API called Pushpin—in fact, if you visit its Web site, the reference for the API is all that's there at present. Weintraub also reports that Placebase's founder and CEO Jaron Waldman is now part of Apple's "Geo Team."
So, what's Apple doing with a mapping company? Given the iPhone's popularity, that's the first thing that most people's minds jump to. Of course, there are plenty of other things that Apple might want mapping data for—the new Places feature in iPhoto '09, for example. Or, of course, the ever-popular thing-we-haven't-seen-yet.
But after Google CEO Eric Schmidt's departure from Apple's board of directors, and the FCC investigation over Google Voice—which also touched upon Apple's rejection of an application Google had created for its Latitude mapping service—it wouldn't be surprising if Apple wanted to further distance itself from its erstwhile friend.