If it's the first day of October, then it's time once again for environmental group Greenpeace's quarterly report card of electronics corporations. The group's latest regular report places Apple in ninth place, square in the middle of the pack, which also includes competitors like Dell, HP, and Lenovo. That's up from the 11 spot in last quarter's rankings, but there's a catch: the report card doesn't take into account Apple's most recent environmental moves.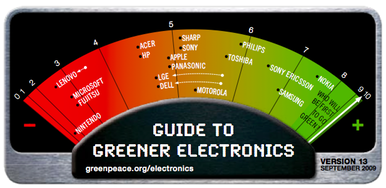 Last week, the company unveiled a redesigned environmental section, including frank and thorough assessments of its carbon footprint and greenhouse gas production. But Greenpeace's report was produced before Apple's changes, and so the company got low marks for both its carbon footprint disclosure and greenhouse gas information (PDF link). Still, Greenhouse didn't hesitate to attribute Apple's new openness at least in part to the environmental group's own Green My Apple campaign.
Apple did score well on the toxin-reduction portion, thanks to its recent efforts at greening its products by eliminating the use of PVC and brominated flame retardants (BFRs). Of course, that's not enough to satisfy Greenpeace, which still wants to see progress on Apple's part in the areas of e-waste and transparency as well as eliminating more toxic substances from its products.
But, just like an over-ambitious parent, will Greenpeace ever truly be satisfied with Apple, or will its continued "disappointment" in Apple's environmental attitude cause a backlash in which the company decides to join the forces of environmental evil? The power is theirs!