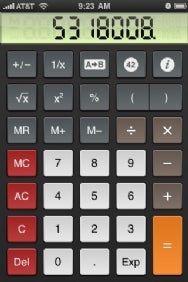 TLA Systems has an important new feature on its popular PCalc and PCalc Lite calculator apps for iPhone. That feature? Censorship. And, frankly, it's about gosh-darned time.
Nothing has haunted the American people like the knowledge that parents may be sending their children to schools in which, with a press of few buttons and some crafty calculator flipping, youngsters could be exposed to numbers that vaguely resemble the word "BOOBIES."
If you've never been exposed to the 5318008 flip trick, than count yourself as lucky. Those of us more experienced with the 8008's and heartbreaks know all too well why a calculator profanity filter is long overdue.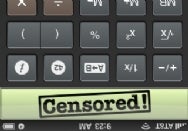 The new feature is simple: If an unsuspecting mathematician types in a number that might look like a tasteless word when the calculator is flipped upside-down, PCalc will "discreetly" censor that word, saving you from the horror of inflicting yourself—or others—with inadvertent smut.
See? Discreet.
In a press release, TLA Systems's James Thomson emphasized the company's commitment to family-friendly calculators, stating, "We take our responsibility to protect innocent minds very seriously." Many "calculator words" have already been defined and the good people at TLA plan on increasing this ban-list over time through software updates.
The profanity filter is available now on both PCalc and PCalc Lite for the iPhone. It has yet to be seen if TLA will eventually implement it on OS X, though flipping your iMac over might present a challenge.
If you or someone you know is thinking about switching over to these extra-safe calculators, TLA Systems is currently offering a coupon code that's worth $9 off the price of PCalc for OS X. More information can be found on the company's website.
This new feature, if implemented into all calculators, could likely save billions of dollars in office-space productivity. Now if only they'd do something about that whole wretched hive of scum and villainy called "the Internet."