Westbang is a take on the wild west shoot-out from Rake in Grass. The $1 tap shooter requires a quick eye and even quicker thumbs to dispatch the nasty bandits threatening the townsfolk.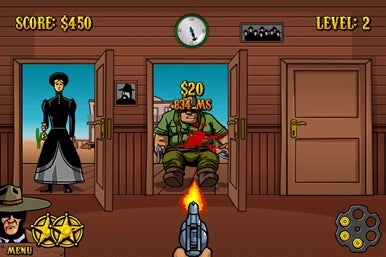 At the start of the game, the town sheriff has just been gunned down by a pack of outlaws, leaving the locals desperate for a new lawman. You take the job and it's just you and your trusty six-shooter standing between the outlaws and the innocent.
A simple game, Westbang offers no real buttons or D-Pad. Instead, you tap a bandit to shoot them before they can shoot you. The game offers three difficulty levels: Good, Bad and Ugly. In Good, you can continue if you lose all your lives, while in Bad, there is no way to continue. The Ugly difficulty setting is a survival mode where you keep playing until you run out of lives. A Time survival mode increases the speed of the bandits the longer you play.
Your main job is to guard the town's bank against would-be robbers. Each bank has three or four doors that quickly swing open to reveal either a customer looking to make a deposit, or a bandit looking to make a withdrawal. You've got to discern quickly between friend and foe and make the right choice. Being a man of the law means you can't shoot the bad guys until they draw on you first. Shooting innocent people or even a bad guy before he draws on you will cost you a life.
Things start off easy enough, but as you progress through Westbang's 25 levels, new types of bandits start showing up making things more and more difficult. Each different type of bandit (21 in all) behaves in unique ways. Some open the bank door with guns drawn ready to shoot, while others may stand there for a while before drawing on you. Even worse, some bandits must be shot twice and some even appear to be regular customers looking to make a deposit—only to whip out a gun.
Aside from your usual job of guarding the bank, you'll have to square off against outlaws in a classic western-style draw-down in the street. The same rules apply here—only shoot the outlaw who draws on you since some of them will throw up their hands to surrender, tempting your trigger finger.
In between levels are cut scenes with authentic western voice-overs of your character telling his story. His gritty voice and long drawl really set the mood. Though the story doesn't really pertain to the game for the most part, it's still a nice touch.
Westbang features 2-D cartoon-style graphics that look really great. When you shoot a bandit, he flies back with blood spattering; you can even shoot up parts of the environment like a clock or a picture on the wall.
Sound effects are awesome. The gunshots, cries of wounded bandits, slamming doors and cash register sounds instantly draw you into the game's western world. The soundtrack that occasionally plays is like something out of Bonanza, setting the perfect mood.
With its frantic and challenging play as well as online leaderboards, Westbang is a fun and addictive tap shooter that's full of action. The free Westbang Lite gives you the opportunity to see for yourself, by letting you play the game's easy level before buying the full version.
[Tim Mercer is a technology enthusiast, graphic designer, and blogger, whose blog, digital-artist-toolbox.com, offers free resources to the digital artist and graphic designer.]