At a Glance
Expert's Rating
Pros
Includes Wi-Fi, can e-mail photos to frame via eSterling's site
Cons
Cannot shuffle slide shows
Accessing e-mailed photos is time-consuming
Our Verdict
PF Digital promises that you'll get a lot from its eStarling ImpactV digital picture frame, but it's unclear how you should go about it. The 8-inch frame came without a manual, though there was a quick-start guide for getting the Wi-Fi connected. The company's Web site was similarly unhelpful, leaving me to stumble around using trial and error.
The ImpactV's touch-panel border for accessing the controls was hit-or-miss, and I found that the frame was also a magnet for fingerprints. Although the frame does connect to a network and can download pictures from RSS feeds, you can update only 20 pics at a time.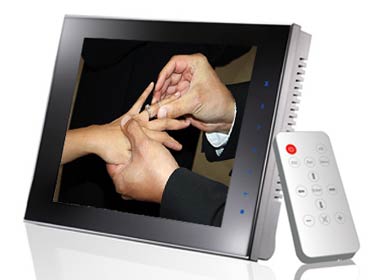 The frame also comes with an e-mail address, so ostensibly you should be able to send photo via e-mail to the address and retrieve those messages through the frame. However, this interaction, as well as the retrieval of any content from online communities like Picasa, actually takes place through the company's Seeframe Live service, which you access from your computer. Once you have created an account there, you can log in to Seeframe Live though the ImpactV and retrieve your e-mailed photos and downloaded photo streams. In my tests, e-mailed images showed up either in minutes or not at all–a little disquieting.
The ImpactV has a memory card slot that is compatible with MMC, SD, SDHC, and Memory Sticks. To view pictures stored in the frame's internal memory, you have to be connected to a network. Pictures on removable media, however, are viewable immediately and will start playing in slide-show mode. As is the case with many digital frames, you cannot stream content from more than one place at a time.
The image quality in our slide shows was passable (images had a blue tint). Transition effects are limited, and photos cannot be shuffled. In my testing, the network connection would occasionally drop, and I would have to re-enter the network key.
Macworld's buying advice
While the ImpactV has some interesting features, you can find similar frames that don't have some of the issues of the ImpactV.
[Kathleen Cullen is a freelance contributor.]