At a Glance
Expert's Rating
Our Verdict
We've recently reviewed a number of 2.0 computer speaker systems—compact, left and right powered speakers that sit on your desk. We continue this string of reviews with JBL's Duet II, a follow-up to the original Duet from several years back.
Like many recent JBL audio products, the Duet II's speakers stand out aesthetically, with each 10.4-inch-tall speaker comprising a thin, football-shaped body atop a 4-inch-wide base. That base is made of gray plastic, with the front half of the speaker's body covered in a silver-fabric mesh. The back half of each speaker is glossy-black plastic and hosts a small bass port. Inside each speaker is one of JBL's Phoenix SE speaker drivers, less than 2 inches in diameter.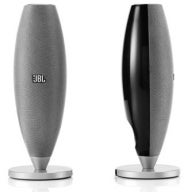 Oddly, there's no label on either speaker to indicate which is left and which is right. Based on the images in the instruction manual, the right-hand speaker is the one with the power/volume dial on top. This gray disc, set into the top of the speaker, has a fingertip indent to make it easier to rotate. The right-hand speaker also sports a green power-indicator light near the bottom, behind the mesh grille.
Unlike the other 2.0 systems we've recently reviewed, the Duet II provides only a single audio input; if you want to connect your iPod and your computer without switching back and forth, you'll need to get a switchbox of some sort.
Also unusual is the design used for this and other connections: the speakers have no direct jacks or ports. Instead, three stiff, dark-gray cables emerge from the base of the right-hand speaker. One is a 5-foot cable with a miniplug at the end that plugs into your computer's audio-output jack. The second is a 16-inch cable that connects to the cable of the system's AC power brick (the power adapter's cable is six feet long, giving you a little over seven feet of reach altogether). The third is a 1.5-foot cable that connects to the a 6-foot cable permanently attached to the base of the left-hand speaker.
This approach to connectivity makes for a less-cluttered area behind the speakers, but it's not without limitations. The first is the confusion of figuring out which cable goes where. JBL's computer speakers have stood out in the past for using color-coded and differently shaped cables and connectors to make setup obvious; the Duet's three similar-looking cables require some minor detective work. Another drawback is that the permanently attached audio-input cable limits how far from your computer you can place the speakers without having to buy an extension cable—an issue if your computer is located under the left-hand side of your desk, as I discovered.
Although 2.0 speaker systems generally don't take up much space on and around your desk, they also rarely provide the same low-frequency performance and bass punch as a 2.1 system (which uses small, left and right satellites for higher frequencies plus a larger subwoofer/amplifier component for lower frequencies). Still, most of the 2.0 systems we've tested at least try to provide decent bass. The Duet II, on the other hand, essentially ignores the lowest frequencies altogether: bass output begins to roll off well above 100Hz and has essentially disappeared by 80Hz.
This design decision means bass lovers will want to look elsewhere, but the upside is that because the Duet's speakers aren't trying to perform beyond their means, you get none of the boominess found in many compact systems that try to pump out lots of bass.
The result is a set of speakers that, while limited at the low end, sound pretty good otherwise, with detailed treble and clear, quality midrange. Without those lower frequencies, the lower midrange can sound a bit light, and on some tracks the treble can sound a bit too prominent, but overall I was surprised by how enjoyable the system was to listen to once I got past the lack of bass, especially with jazz, classical, folk, and other music that doesn't rely on a thumping beat to keep you interested.
With only 12 Watts of total power, the Duet II also can't reach the same volume levels as the other 2.0 systems we've tested recently. But because it's not trying to produce booming bass, the Duet II's power goes mainly towards treble and midrange, so I had no problem filling a good-size office with music. Still, at louder volumes, the audio quality does sound strained.
If you're looking for speakers that pump out loud volumes or deep bass, or need the flexibility of multiple audio inputs or a headphone jack, the Duet II is not for you—it can't reproduce lower frequencies and its connectivity and options are limited. On the other hand, if you just need a set of basic computer speakers that provide enjoyable sound without taking up much space on your desk, the Duet II is worth a listen—and a look—especially given the street price of around $80.