At a Glance
Expert's Rating
Pros
Old-time arcade fun resurrected with plenty of new twists to keep things interesting
Cons
Unchallenging
Twice as expensive as Windows version
Repetitive
Our Verdict
All the way back in 1982, Data East released a coin-op arcade game called BurgerTime. Simple gameplay and a memorable theme ultimately led to versions that ran on the consoles of the day. Twenty-seven years later, BurgerTime has been resurrected by Namco, this time as a casual game for the Mac and PC. Don't go looking for it from Namco's Web site, though, as it's available from Macgamestore.com.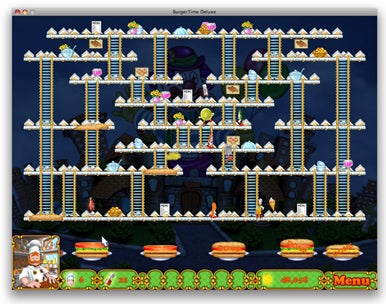 You can play either as Peter or Sally Pepper, apprentice chefs who must help their uncle thwart the dastardly plans of Vinnie Vinegar. To do so, you need to stack burgers by assembling them from a giant scaffolding while you're being chased by food monsters like Mr. Hotdog, Mr. Egg, and other bad guys who will kill you if they touch you. I've never been so afraid of ham and pickles in my life!
To assemble the burgers onto the plates below, you must walk across each of the pieces to work them loose and make them fall. There's a fair amount of strategy that goes into this. Burger pieces may be separated by three levels or more (if you have cheese, lettuce, and tomato), and if one piece hits another, that piece will fall down as well. What's more, the bad guys chasing you will get zapped if a piece falls on them, or if they're traversing a piece when you stomp it loose. You get extra points, and they go away—at least until they respawn.
At its core, BurgerTime is an arcade maze game akin to Pac-Man. You can't leap from platform to platform, like with the classic game Lode Runner, but you can scale ladders up and down across the game field. You have a weapon at your disposal—a pepper shaker with an ammo supply that can be replenished by picking up power ups that appear randomly on each level. Spraying pepper into the face of the bad guy will incapacitate him for a few seconds as he rubs his eyes and enables you to run past him.
Other power-ups like potato chips, ice ice cream cones, coffee and tea give you extra points, but just like in the real world, if you see a hot order of french fries, you get a free life, so make sure to grab it. Other objects grant you even more abilities—ketchup kills all enemies on the map, sort of like what it does to the taste of a good burger. Salt stuns everyone, ice cubes grant you temporary invulnerability, and so on.
BurgerTime features a story mode that lets you play through each level progressively—there are more than 60 all together. Minigames throw some extra points and challenge into the mix, but they need to be activated by reaching special achievements within the game, like collecting the letters to spell the word "pepper." A "Quick Mode" will just play random levels until you exhaust your supply of chefs.
I was really delighted to get BurgerTime Deluxe, as I remember pushing quarters into the original when I was a kid. I realized, however, how thin the veneer of nostalgia was when I told Macworld's Chris Holt, who's a bit younger than me, that BurgerTime had been released for the Mac. His response: "What's that?"
To that end, I realize that the mark has really moved for what we should expect from casual games on the Mac, and one thing that we certainly shouldn't expect is getting gouged on the price. Namco offers this same game for download for the PC only for $10, but it's $20 for the privilege of playing it on your Mac.
I understand that the economy of scale is different in the Mac market—that fewer people buy Mac games and that developers need to recoup their development costs from your buyers. But a 100 percent markup on a casual game that is worth $10 at most is abusive.
One final thing: if you have apps running concurrently with BurgerTime Deluxe and you switch to full screen mode—an option in the game's settings—the window size of those other running apps will shift smaller to suit the resolution. BurgerTime fails to capture the state of existing windows and restore them after it quits. I do not recommend using the full screen option unless Namco fixes this bug, or unless you close all other open windows.
Macworld's Buying Advice
BurgerTime Deluxe is a retread of a classic video game franchise from 27 years ago, and old-school gamers may appreciate how it's been redone. It has some casual game charm but it is buggy and ridiculously overpriced.
[Peter Cohen is now executive editor of The Loop and will gladly pay you Tuesday for a hamburger today.]