Voice memos were among the more highly touted features of the iPhone 3.0 software update, so it might not be immediately obvious what purpose an app such as Carnation Software's Say It & Mail It would serve. The app's one-sentence summary would read something along the lines of, "You can record and send voice memos your iPhone or iPod touch." Isn't that one of those "duplication of features" that Apple purges from the App Store with such gusto?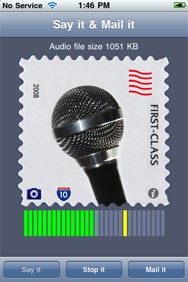 Turns out, a one-sentence summary isn't adequate to compare and contrast Say It & Mail It with Apple's own Voice Memos app for the iPhone and iPod touch.
What sets Say It & Mail It apart from Voice Memos is the inability to save audio files on your handheld. Carnation actually touts this as a positive selling feature: "No file maintenance on your iPhone, since audio files are not stored there." An alternate name for Say It & Mail It might be Send It or Lose It.
But that's probably OK; truth is, you probably don't want to fill up your handheld with audio notes if you can help it. This $2 app is a note-taking tool. Because the developer rightly assumes that you will be recording messages to yourself and not to other people—although you certainly may do that— it has set up Say It & Mail It to make e-mailing the audio to yourself 99-percent hassle-free.
Say It & Mail It's interface is simple and graphically pleasant. It doesn't have a cool graphic of a professional microphone, like Apple's Voice Memos app. When you first launch the app, it will prompt you for your name and e-mail address. The app will automatically fill in your e-mail when you go to send your audio. To record, simply tap the Say It button and speak into the microphone. Once you've finished, tap Stop It. You can review your recording with the Play It button or tap the Mail It button to open an e-mail window within the app. If you are sending the memo to yourself, just tap Send and off it goes. The audio files are compatible with Macs or PCs, and the audio quality is good.
Sending an audio note to somebody from your address book requires a couple of additional taps. You add the address from your contacts as you would with any other e-mail and tap the send button. A few users have complained in App Store reviews that their e-mails send but never land in their intended destinations. I've sent several messages to multiple addresses from my iPhone and had no trouble at all.
The app makes excellent use of the iPhone's GPS feature. You can embed a map of your location and a link to Google Maps along with your recording in the e-mail. Carnation suggests this makes the app "the ultimate car parking app," because you can record a reminder of where exactly you parked, along with the GPS location and a photo. (If nothing else, the app will record the location of your brilliant insights at any given moment.) You can also import other images from your handheld's camera roll. The latest version of the app lets you adjust the size of the images. You can switch the location feature on and off in the app's preferences.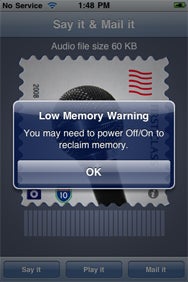 Say It & Mail It's latest version corrects an annoying problem that caused iPhone users to lose a recording in the event of an incoming call. This also works in the event of a crash, which I experienced twice while reviewing the app. When you relaunch the app, a message will pop up saying you have saved audio, which you can keep or delete. You then have the option of e-mailing the file, but you cannot listen to it or—this is important now—pick up recording where you left off.
Another downside: Say It & Mail It is a huge memory hog. I received several low memory warnings, even when I was recording relatively short messages (20 seconds or less). And I rarely used the photo feature. The only remedy is to restart the device and relaunch the application. Also: iPod touch users need a headset with microphone to use the app. iPhone users simply use the device's built in microphone.
[Ben Boychuk is a columnist and freelance writer in Rialto, Calif. Feel free to e-mail him.]