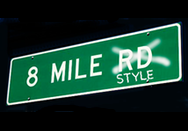 Word on the Detroit streets is that Apple and music publisher Eight Mile Style have reached a deal in the dispute over royalty payments for 93 songs by rapper Eminem. The Associated Press reports reports that the two parties have settled their beef as of Thursday.
The issue at the center of the suit was whether or not Apple had the rights to distribute digital downloads of several of Eminem's tracks. Apple maintained it had a deal with co-defendent Aftermath Records, which Eight Mile Style said did not have the rights to make such an agreement. The suit, originally filed in 2007, didn't go to trial until last month. Eminem's publisher was demanding payment of royalties due for the songs, as well as asking for damages and a share of Apple's iPod profit.
The details of the settlement are unknown, but it seems likely that they include at least a portion of the payment that Eight Mile Style was demanding. Also, potentially, free copies of 8 Mile for every Apple employee and a complimentary backwards baseball hat.