When I graduated from high school back in the days when monstrous thunder lizards still roamed the earth, my parents gave me a present—The Complete Signet Classic Shakespeare. This handsome bound volume contains 38 plays (each with its own introductory essay); five poems (including two the book tantalizingly identifies as "of doubtful authenticity"); 154 sonnets; and assorted scene-setting introductions, historical data, and appendices. You'll find all of this in 1,773 pages crammed into a book that, should you drop it on your foot, will probably break one of your toes.
In contrast, Shakespeare from Readdle in association with PlayShakespeare.com does away with the essays and supporting documentation, providing the text for all the plays, sonnets, and poems found in the back-breaking Signet volume. It also throws in Edward III and Sir Thomas More, two plays no one can definitively state that Shakespeare actually wrote (at least not all by himself), along with an extra poem—"To the Queen," an 18-line effort that someone (perhaps even William Shakespeare!) jotted down on the back of an envelope one day in 1599 or so. Readdle fits all of this into 28.8MB on your iPhone or iPod touch, which certainly won't break your toe if you drop it on your foot, though I'm not sure the mobile device would walk away unscathed.
So you definitely can fit the complete works of Shakespeare onto your iPhone with plenty of room left over for your playlists, e-mails, and casual games. The question is, though, would you want to? Do the words jump as trippingly off the iPhone's screen as they do the printed page? Is this any way to enjoy the Bard?
The answers, which I'll give in prose instead of iambic pentameter are, in order: Yeah, sort of, and a qualified yes. Because after spending some time with Shakespeare—the app, not the playwright—and reading the works of Shakespeare—the playwright, not the app—thumbing through Much Ado About Nothing or Richard III on a 3.5-inch screen involves a few sacrifices, some of which prove to be a heavy burden to bear.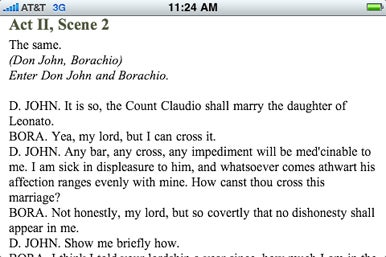 While it includes the text of Shakespeare's plays helpfully broken down by act and scene, the iPhone app does not include line numbers—those helpful reference guides that let you know where you are in a scene and come in particularly handy if you're reading Shakespeare in a classroom setting. That may be because the app doesn't do a particularly solid job of fitting one line of text on one line of the iPhone's screen at its default font size—at least not in portrait mode. Flip your iPhone or iPod touch, horizontally, and Hamlet's musings about "what dreams may come,/When we have shuffled off this mortal coil," fit properly on the screen. (In landscape mode, the menu bar also disappears, giving you more real estate for the text of the plays themselves.)
Shakespeare lets you adjust font size, with a range of seven settings from Tiny to Largest. Note that "tiny" is very tiny indeed.
More problematically, the app shortens the names of characters after introducing them so that in Act III, scene iv of Richard III, Lord Hastings becomes HAST., the Duke of Buckingham is BUCK., the Bishop of Ely is ELY., the Duke of Gloucester is GLOU., and so on. It becomes a little bit confusing to follow and the abbreviations really don't save a lot of space. Why even have them? Character names are listed in all caps; otherwise there's no difference in font, size, or color to distinguish the names from lines of dialogue. That doesn't help with readability, either.
The Shakespeare app has no footnotes, which can be helpful in explaining words or turns of phrase that probably made perfect sense to 16th century audience, but aren't so common today. Take Francis Feeble's line "We owe God a death" in Act III, scene ii of Henry IV, Part Two: My copy of The Complete Signet Classic Shakespeare helpfully points out via a footnote that "death" is pronounced "debt" and that Shakespeare is making a pun—that kind of nuance is lost in the iPhone app.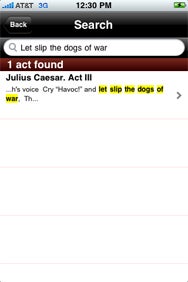 But perhaps these are petty faults, as the Duke of Buckingham would say in Henry VI, Part Two in a context that likely had very little to do with iPhone software. Shakespeare the app does a number of things very well. It remembers where you left off when reading a play and gives you the option of jumping back to that precise spot when you're ready to resume reading. Should you, for example, duck out of Julius Caesar in Act III, scene ii to attend to other business, when you return, Mark Antony will still be holding forth in his funeral oration, right where you left him.
Shakespeare also has an excellent search feature, where you type in words or phrases to find out where they appear in the works of Shakespeare. Wondering where the phrase "as tedious as a twice-told tale" originates? Shakespeare's search feature will take you to Act III of King John with the relevant phrase highlighted.
There's a lot of layout decisions I'd like to see play out differently with Shakespeare. And I wish the app took advantage of the iPhone's new text-copying features for those times I come across a turn of phrase that might be appropriate for an e-mail or note. (How very iPhone 2.0 of Shakespeare.) But as a free resources that puts three dozen plays and 160 or so poems and sonnets in your pocket, there's a lot like about Readdle's Shakespeare, whether you're a student, a fan of the Bard, or just someone who'd like to figure out how Titus Andronicus cooked up such a delicious pie.
[Macworld.com executive editor Philip Michaels once had a professor who suggested he give up journalism to instead pursue the glamour and intrigue that comes with a career in Shakespeare scholarship. It's been a lifetime of regret ever since.]