At a Glance
Expert's Rating
Pros
Easy to use for 2-D animations
Useful export features
Affordable
Audio, lip sync integration
Includes great set of e-learning tools
New stop-motion feature is worth the price
Cons
Over-simplified interface makes getting started a bit daunting
Our Verdict
So many artists today want to venture into the animation world but either don't have the hand-drawing artistic capabilities or the time and resources to learn 3-D animation. Many of us have tried our hand at stop-motion with in-camera techniques or perhaps clever editing. Toon Boom Studio 5 however offers infinite possibilities with easy-to-use stop-motion, traditional paper, or digital animation, and even cut-out and rotoscoping. The cut-out feature is like grabbing various elements and compositing them together.
Versatile new features
With this software, you can draw, scan, import, or capture artwork and video, then animate it in any number of ways. You can paint art work and add it to your drawings, or even paint over your imported files. You can animate with motion paths as well as audio, and you can animate the camera in real time. Let's say you're more of a real world modeler and have created miniatures you'd like to bring to life. Take your digital camera and photograph the minatures over time and bring them into Toon Boom to animate. From there, you can add unique visuals, and even audio. If you're not a traditional sketch artist, the new stop-motion feature is perfect for you.
But let's say you're into traditional animation. You don't have to worry about drawing on transparencies and shooting each image to make a film. Rather, with Toon Boom you can scan in drawings and use the program's rich toolset to bring your drawn animations to life. Add sound, additional drawings, and even publish to the Web. Moreover, you can draw, create, or import various cut out elements to build characters and store them in a personal library. Once imported, you can use those elements with motion paths to create movement and a complete 2-D animation.
Over the years, rotoscoping has grown in popularity, and now with Toon Boom Studio 5, it's easier than ever. Rotoscoping is the art of drawing over or around a photograph, or more commonly a video sequence. The advantage is that you get realistic movements with a hand-drawn, stylized look.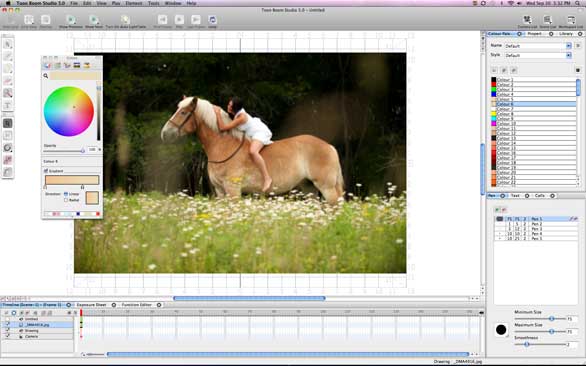 Interface
Upon initial launch, the Toon Boom Studio 5 interface seems simplistic. It closely resembles Adobe Flash in many ways with its clean white palettes and array of panels. There are numerous icons that offer up a range of controls, many of which only become active once your project has begun. The Toon Boom Studio interface is not intuitive, but once you go through one or two of the tutorials, the navigation makes more sense.
Additional benefits
The new version of Toon Boom Studio offers annotation layers for better communication with and feedback from clients and colleagues. There is also a new multi-discipline project-based curriculum to help you get up to speed fast. But that's just the beginning. As you would expect from a 2-D animation program, Toon Boom Studio 5 offers onion skinning, letting you see the frames before and after your current frame to assist with timing and movement. There is also a text tool, and OpenGL anti-aliasing, for smooth and clean renders.
Toon Boom Studio 5 offers a new automatic lip chart generation feature direct from voice tracks, as well as automatic mapping of lip charts to lip drawings to provide more accurate syncing.
The program provides a variety of options to share your animation once it's finished: You can export print drawings to flipbooks; export to iTunes, QuickTime, PDF, DV Stream, image sequences, or embed in HTML documents; or post directly to YouTube and Facebook.
Macworld's buying advice
At first glance, Toon Boom Studio 5 looks like a simple, almost kid-like program. But don't be fooled. The new stop-motion feature, annotation layers, and new export functions make this not just a fun program to use, but one rich in sophisticated features that any creative artist would want as part of their digital toolset.
[Dan Ablan is president of AGA Digital Studios in the Chicago area. He has written 13 books on 3-D animation, digital photography, and Photoshop. He is also founder of 3D Garage.com, an online training resource.]