You know that little devil on your shoulder telling you to do bad things? Well, iNabler brings that kind of bad advice to you in a convenient iPhone app. iNabler is the anti-Jiminy Cricket, the id to your superego, the friend of yours who tells you to do stupid things.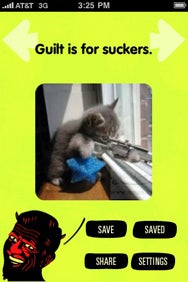 The concept behind iNabler is simple: Images of adorable animals coupled with humorous sayings encourage you to act on your evil impulses. It's funny, it's simple, and it's easy to share these little visual gags with your friends via Facebook and Twitter.
The $1 iNabler app is one of the first applications released by upstart developer iLarious, a company that differentiates itself from other iPhone app developers by being the first to market exclusively as a comedy application developer. Other applications from iLarious promote rising comedians, let you share in riffing on media, and provide daily news-themed jokes. The comedy talents behind the apps have impressive resumés from some of comedy's biggest names today: The Onion, Word Girl, Demitri Martin, The Daily Show, and many more.
iNabler's purpose is simple and its execution is straightforward: you load the app, you see a funny image with accompanying text, and you presumably laugh. To see more, you either touch a button to scroll or shake the iPhone. In this way, it functions like a magic eight ball but the answers are always "Yes, you should do it." If you like a particular image/text combo, you can click to share the image and text with a friend through Twitter or Facebook.
With more than 200 commands available, you're sure to find some of the pieces of advice to be hilarious, but others miss the mark. It's tough to make the entire selection comedy gold when every one follows the same theme: do bad things now, don't regret it, don't be a sissy, and so on.
I laughed out loud at some of the stock images of kittens and monkeys iLarious uses, but Internet junkies will recognize a great many of the pictures from image boards and blogs. Still, their repurposing here is funny more often than not and the use of memorable quotes like "You can do anything you want, damn it! You own an iPhone!" will keep this on your iPhone at least for a little while.
The iLarious logo and artwork are heavily influenced by the novelty items you'd find in back catalogues of '50s comic books and magazines. The influence can also be seen in the simple gimmicky qualities of the iNabler application. iNabler won't help you organize your life, track your whereabouts or streamline your calendar; its ethos isn't about making you more efficient or more productive, but quite the opposite—the app wants you to have more fun. Providing a different type of entertainment than gaming and offering a different goal than productivity, iNabler's unique focus is on comedy.
[Chris Holt is an assistant editor for Macworld.]