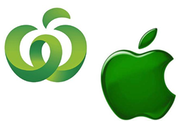 Trademark disputes are part and parcel of any brand's identity. If you're not defending your trademark, there's a good chance that you could lose it—brand names like Xerox, Kleenex, even Google are all common usage these days, making it a hard sell for those companies to protect their brands. Which is probably a good portion of the reason that Apple is trying to stop Australian company Woolworths from trademarking its logo.
First up: this isn't your mom and pop Woolworth's, the five and dime stores that originated in New York and Pennsylvania in the late 1800s. While the Australian chain is named after the American business, it's not directly related. It is, however, the largest retailer in Australia and New Zealand, selling groceries, liquor, and, uh, operating hotels and gambling establishments. That's…erm, varied.
Woolworths recently re-did its logo as a stylized "W" that, if you close your eyes and squint, sort of looks a bit apple-esque. Apple contends that the new design is too close to its iconic logo and has asked IP Australia, the government agency in charge of trademarks, to deny the retail chain's application, which would have allowed Woolworths to put its brand on any product—including electronics. (The company already makes cell phones.)
While we'll have to wait and see how this plays out, I maintain there's another potential reason at play here—perhaps Apple is fighting the new Woolworths logo because the swooping "W" design is hideously ugly. If I were Apple, I wouldn't want something like that in the same trademark database as my classic design.