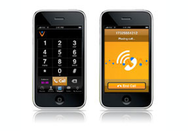 Those looking to make cheap international calls via their iPhone may not yet be able to do so using a native Google Voice application, but that hasn't stopped VoIP company Vonage from offering similar capabilities in its new app for iPhone and iPod touch.
The application, which works on both cellular and Wi-Fi network connections, not only allows users to take advantage of low rates for international calling, but also uses VoIP capability when on a Wi-Fi network to avoid using your phone plan's minutes.
Unfortunately, if you're already a Vonage customer, the new applications don't give you anything in the way of tie-in with your existing service. You'll need to set up a new account which allows you to pay as you go—Vonage even throws in a $1 credit to get you started. And, because no iPhone app is complete without it, Vonage offers built-in Twitter functionality for both reading and posting.
The company is offering two apps:—Vonage for iPhone and Vonage for iPod touch—both of which are free and require iPhone OS 3.0 or later. There's also a version for BlackBerry, if that's what you're packing in your holster.